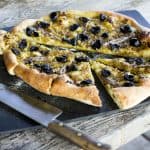 Print
Pissaladière (French Pizza)
Pissaladière is the ultimate in French street food; crispy crust, caramelized onions, anchovies and salty, oil-cured olives. Because it is wonderful served both warm and at room temperature, it makes perfect picnic fare. La bonne vie is sitting on a blanket with a slice of Pissaladière and a glass of chilled, crisp white wine.
1

pound

pizza dough preferably this

3

medium onions

peeled, halved and cut into thin half-moon shapes then roughly chopped

3-4

tablespoons

olive oil

1/4

teaspoon

dried thyme or 1/2 teaspoon fresh thyme

1/2

a bay leaf

3

garlic cloves

peeled and sliced

1/2

teaspoon

kosher salt

black pepper to taste

8-10

oil packed flat anchovy fillets

patted dry

16

oil cured olives

pitted and halved (You don't need to be fancy about it. Pop the pit out with your fingers and tear the olives in half.)
Preheat your oven and a pizza stone to 500°F (or up to 550°F if your oven can go higher.)

While the oven preheats, gently heat the olive oil in a heavy-bottomed skillet. Add the onions, thyme, bay leaf, garlic, salt and pepper, stirring to evenly coat with oil, and cook gently over medium low to low heat (lowering if necessary to prevent over-browning) for about 20 minutes, until the onions are softened and just lightly browning around the edges. Do not caramelize the onions completely or they will scorch in the oven giving a burned taste to the final product. Remove the bay leaf from the caramelized onions.

Dust your work surface with flour and gently stretch your pizza dough into a circle. Use a floured rolling pin to stretch the dough out until it is about 1/8-inch thick. Generously cover a pizza peel with semolina or cornmeal.

Spread the onion mixture (including the oil) to within 1/4-inch of the edges of the crust. Arrange the anchovies and olive halves over the top of the onions. Give the peel a gentle shake to be sure the dough isn't sticking. If it is, carefully lift that area and sprinkle more semolina or cornmeal underneath to fix it.

Slide the dressed dough onto the hot stone and bake for between 8 and 15 minutes, depending on the heat of your oven, or until it is evenly browned and crisp underneath. Use the peel to transfer the Pissaladière to a cutting board.

Cool for five minutes, cut into wedges and serve warm or at room temperature.