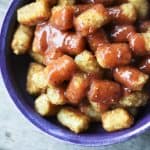 Print
Mondays Cornell University Food Truck Style
Julio Sauce is my take on the classic Cornell University dish and sauce served by Louie's Lunch- Julio Fries. The vinegar based hot sauce mixed with oregano adds a burst of flavour to fries -to be sure- but it's also fantastic on all potato dishes. We loved them on tots, home fries and baked potatoes. What will you douse with Julio Sauce?
To Make Julio Tots:
Prepare frozen tater tots according to package instructions but cook them long enough to be terminally crispy. Super crunchy. Make 'em make noise when you bite 'em is what I'm saying.

Transfer hot, crunchy tots to a bowl and either serve with a side of Julio Sauce for dipping or pour over the tots for a softer dish.

Don't you feel smarter already?