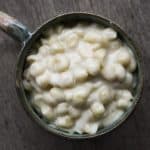 Print
One-Pot Creamy Shells and Cheese Plus Bonus Taco Mac Hack
One-Pot Creamy Shells and Cheese takes creamy mac and cheese to new heights of decadence and ease while only dirtying one pan. For creamy mac lovers and last minute mac and cheese cravings. Bonus: 2-Ingredient Taco Mac Hack included in the recipe!
1

pound

small shells pasta

Do NOT use medium shells.

4

cups

milk

plus extra, in case!

3

tablespoons

butter

1/2

teaspoon

ground mustard powder

2

teaspoons

kosher salt

1/2

teaspoon

garlic powder

1/2

teaspoon

onion powder

1

cup

grated Monterey Jack cheese

1

cup

grated extra sharp Cheddar cheese

freshly ground pepper to taste
Add the small shells, milk, butter, mustard, salt, garlic and onion powder to a large saucepan over medium heat. Stirring nearly constantly and taking care to scrape the spoon across the bottom of the pan to prevent sticking and scorching, slowly bring the mixture to a simmer then drop the heat to LOW. Don't forget this or you'll be sorry!

Continue stirring and simmering the pasta for about 15 minutes, or until the milk is almost completely absorbed. Test a piece of pasta (carefully, though, because this stuff is MOLTEN at this point.) If the pasta isn't fully cooked and the milk is almost gone, add more milk in -1/4 cup at a time- until the pasta is fully cooked. This will add a small amount of cooking time (3-5 minutes) to the overall cooking time.

Remove the pan from the heat and stir in the grated cheese.

Put a lid on the pan and let it rest, undisturbed for 3-5 minutes. Give it one more stir and taste. Add the black pepper to taste and serve hot.

Leftovers can be stored in the refrigerator in a tightly lidded container and heated up with a splash of milk in the microwave or in a saucepan.