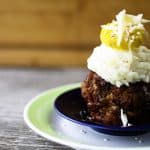 Print
Bacon Cheeseburger Mini-Meatloaves and Cheesy Mashed Potatoes
These mini-meatloaves taste just like a good old-fashioned bacon cheeseburger straight down to the finely diced dill pickle in them! Top them with creamy, Cheesy Mashed Potatoes, a little extra dill pickle and a sprinkling of sesame seeds (instead of a sesame seed bun) and you'll be in seventh meatloaf heaven! Gently adapted from and with thanks to "The Meatloaf Bakery Cookbook" by Cynthia Kallile.
For the Bacon Cheeseburger Mini-Meatloaves:
1/2

pound

8 ounces bacon, cut crosswise into small slices

3/4

cup

finely diced cooking onions

1 1/2

pounds

ground chuck

1

cup

panko or plain white bread crumbs

1

cup

shredded extra-sharp Cheddar plus extra for garnish

1

cup

shredded Monterey Jack cheese

1/4

cup

well-drained finely diced dill pickles plus extra for garnish

1

large egg

lightly beaten

1/4

cup

milk

beaten

1/4

cup

ketchup

2

tablespoons

mayonnaise

1

teaspoon

prepared yellow mustard

3/4

teaspoon

kosher salt

1/2

black pepper

nonstick cooking spray
For the Cheesy Mashed Potatoes:
8

Russet potatoes

peeled and cut into 2-inch chunks

1/4

cup

whole milk

warmed in the microwave

4

tablespoons

of unsalted butter

softened

2

tablespoons

plain yogurt or sour cream

1 1/3

cups

shredded extra sharp Cheddar cheese

1/2

cup

shredded romano cheese

kosher salt and freshly ground pepper

to taste
Preheat oven to 375°F.

Cook the bacon in a frying pan until crisp. Use a slotted spoon to transfer the bacon to a paper towel lined plate and set aside. Pour off all but about 1 teaspoon of the bacon grease. Add the onion and cook for a few minutes until softened. Set aside to cool to room temperature.

Combine the remaining meatloaf ingredients well with your hands in a mixing bowl. Grease 6 large or 12 standard sized non-stick muffin pan. Use your hands to mound the tops of the meatloaves so they're domed.

Bake in the oven for 25 minutes (for the standard sized mini-loaves) to 40 minutes (for the large loaves) or until the middle of the interior of the loaves measures 160°F on an instant read or meat thermometer and the meatloaf tops are browned.

Remove the pan from the oven and let cool a couple of minutes before trying to remove the loaves.

When you can handle the pan, unmold the meatloaf cupcakes and set on a cutting board or flat pan to prepare for "frosting" with the mashed potatoes.
To Make the Cheesy Mashed Potatoes:
Cover the peeled and chunked potatoes with cold water in a large saucepan. Bring to a boil, uncovered, over high heat. Reduce the heat and simmer the potatoes until they are fork tender, 10 to 15 minutes.

Drain the potatoes in a colander and return them to the hot pan. Add the milk, butter, and yogurt to the potatoes and mash until very smooth. Add the shredded cheeses to the hot potatoes and mash that into the potatoes until melted into the potatoes. Taste the potatoes and adjust with salt and pepper. If you're going to pipe the potatoes onto the mini-meatloaves, you want to be sure you don't have chunks as those could block the pastry tip. If you're going to dollop or spread it on top, you don't need to be quite as thorough in eliminating lumps of potato.
To Serve:
Dollop or spread mashed potatoes on top of the meatloaf cupcakes ~OR~ insert any large tip into a 12-inch to 14-inch pastry bag. Fill with the hot Cheesy Mashed Potatoes. Be careful as the bag will be hot to the touch! Pipe the potatoes onto the tops of the meatloaf cupcakes. Serve immediately, topped with extra pickles, shredded cheese and a sprinkling of sesame seeds, if desired.

Leftovers, if you have them, can be stored tightly wrapped in the refrigerator for up to 3 days and reheated in either the microwave or a moderate oven (350°F.)