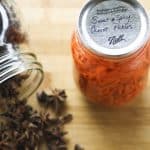 Print
Sweet and Spicy Asian Style Pickled Carrots
These simple-to-make pickled carrot strips are sweet, spicy, tangy and flavourfully crisp-tender. Put them on sandwiches, bibimbap, sushi rice bowls, relish trays, tuck into salads and springrolls or just snack on them. Once you try them, you'll want to keep lots on hand!
2

pounds

of peeled carrots

julienned (or use a vegetable peeler to peel long thin strips of carrots.)

1 1/2

cups

cider vinegar

1 1/2

cups

water

1/2

cup

rice vinegar

3

whole star anise

3/4

cup

raw or granulated sugar

1

tablespoon

crushed red pepper flakes

3

tablespoons

minced fresh ginger root

1

clove

garlic

peeled and minced

1

teaspoon

kosher salt
Clean and sterilize 3 pint jars, lids and rings (For instructions on how to do this, see this link )

In a stainless steel -or other non-reactive pot- combine the vinegars, water, star anise, sugar, crushed red pepper flakes,ginger root, garlic and salt. Bring to a boil, stirring just until the sugar is dissolved. Use a slotted spoon to remove the star anise from the boiling brine and divide them evenly between the jars.

Add the carrot sticks to the boiling brine. Bring the liquid back to a boil, about 2 minutes. Turn off the heat. Immediately use tongs or a slotted spoon to divide the carrot sticks between the jars, packing if necessary to fit them all in. Use a ladle to pour the hot brine over the carrot sticks, being sure to cover the carrot sticks with brine. Insert a sterile chopstick or knife into the jars to release air bubbles and add more brine if necessary to keep the carrots covered.

Moisten a paper towel with vinegar and wipe the rims of the jars. Position a lid on top of each jar and screw on the rings to finger tip tightness. If you over-tighten, the jars will not process properly.

Place the jars on a rack in a canner, add hot tap water to cover the jars by at least an inch and cover the pot. Bring to a full rolling boil and process for 10 minutes. After 10 minutes, turn off the heat, but leave the cover in place and let the jars rest for 5 minutes. After the 5 minutes have passed, carefully transfer the jars to a cooling rack or towel lined counter to cool, undisturbed for 24 hours.

Check the seals after 24 hours have passed. If it is a good seal, the center of the jar lid will be slightly sunken in and will not "poing" back up when pressed lightly with the finger. If the lid is domed, or it pops back up when pressed, store in the refrigerator.

Wipe down the jars with good seals, remove the rings, and label before storing in a cool, dark place for up to a year.