Print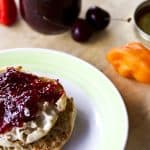 Cherry Habanero Lime Jam
There's no jam like homemade jam and this homemade sweet cherry jam has a little extra kick and sunshine in it courtesy of fresh habanero peppers and lime juice and zest. It's not face meltingly hot, but the gentle warmth from the habaneros will make this jam a welcome addition to the winter breakfast table. The jam also makes a fabulous all-in-one glaze for grilled meats!
4

cups

pitted

crushed sweet cherries

1

to 2 fresh habanero peppers

stemmed and seeded and very finely diced

1/2

cup

fresh lime juice

zest of 2 limes

2

cups

sugar

I used raw sugar, but granulated sugar is also fine here.

4

teaspoons

Pomona's Universal Pectin powder

4

teaspoons

Pomona's Calcium Water

mix is included in packages of Pomona's Universal Pectin
Measure your prepared fruit (including the habaneros) into a deep jam pot (remember it will bubble and foam and expand in size greatly as it boils!) with the lime juice and calcium water. Stir it well. Bring the fruit to a boil, stirring frequently to prevent sticking or scorching.

While the fruit is coming to a boil, measure the sugar and pectin powder in a clean, dry bowl and whisk it together. Set aside.

When the fruit comes to a full boil, stir the sugar/pectin mixture in all at once and stir HARD for 1 to 2 minutes to dissolve the sugar and pectin. Return the mixture to a boil and immediately remove from heat then stir in the lime zest.

Fill prepared, sterile jars to within 1/4-inch of the top. Wipe the rims clean, fix new, two-piece lids in place and screw the rings to fingertip tightness. Place filled jars in a canner filled with boiling water so that they are covered by at least an inch of water. Return the mixture to a boil and boil for 10 minutes. Turn the heat off after 10 minutes of boiling and let the jars stand in the water for 5 minutes before transferring carefully to a towel lined counter top or a cooling rack.

Let the jars cool completely before checking the seals. The center of the lids should be sucked down and not pop when pressed gently. Remove the ring from the jars, wipe clean, label clearly and store in a cool, dark place for a year or so. Once a jar is opened, it is good for about 3 weeks, tightly covered in the refrigerator.