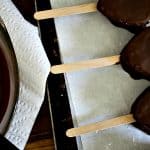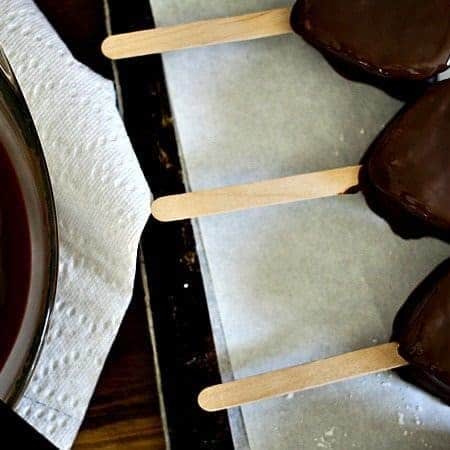 Print
Mocha Marshmallow Pops
Heart-shaped, airy, coffee flavoured marshmallows enrobed in silky milk chocolate. Perfect for Valentine's Day OR a Game Day dessert!
For the Coffee Marshmallows:.75-oz unflavored gelatin (3 envelopes of Knox gelatin)
1/2

cup

cold water

2

cups

granulated sugar

2/3

cups

light corn syrup

1/4

cup

water

1/4

teaspoon

salt

1

tablespoon

coffee extract

Confectioners' sugar
For the Mocha Marshmallow Pops:
To Make the Coffee Marshmallows:
Line 9 x 9-inch or 8 x 8-inch pan with plastic wrap and lightly oil it using your fingers or non-stick cooking spray. Set aside.

In the bowl of an electric mixer, sprinkle gelatin over 1/2 cup cold water. Soak for about 10 minutes.

Meanwhile, combine sugar, corn syrup and 1/4 cup water in a small saucepan. Bring the mixture to a rapid boil. As soon as it is boiling, set the timer and allow to boil hard for 1 minute.

Carefully pour the boiling syrup into soaked gelatin and turn on the mixer, using the whisk attachment, starting on low and moving up to high speed. Add the salt and beat for between 10 and 12 minutes, or until fluffy and mostly cooled to almost room temperature. After it reaches that stage, add in the extract and beat to incorporate.

Grease your hands and a rubber or silicone scraper with neutral oil and transfer marshmallow into the prepared pan. Use your greased hands to press the marshmallow into the pan evenly. Take another piece of lightly oiled plastic wrap and press lightly on top of the marshmallow, creating a seal. Let mixture sit for a few hours, or overnight, until cooled and firmly set.

Sprinkle a cutting surface very generously with confectioner's sugar. Remove marshmallow from the pan and the plastic wrap and lay on top of the sugar. Dust the top generously with sugar as well. Dip a heart shaped cookie cutter into confectioner's sugar and cut as many hearts as you can from the marshmallow slab. Depending on the size you use, you can get between 4 and12 marshmallows from one slab. I like them best mid-sized and get 9 marshmallows with my cutter.
To Make the Mocha Marshmallow Pops:
Insert a stick into each marshmallow. Place on a waxed paper or parchment lined cookie sheet. Place the sheet in the freezer for at least 30 minutes, but up to 24 hours before proceeding.

Add the milk chocolate chips and coconut oil to a microwave safe dish. Microwave on high for 45 seconds, stir, and return to the microwave in 10 second bursts on high, stirring well after each one, until it is perfectly smooth. Let it stand at room temperature for 5 minutes. Take the marshmallow pops from the freezer and quickly dip into the melted chocolate, letting excess run off ~OR~ use a spoon to drizzle the melted chocolate artistically over the marshmallow pops. Let them firm up at room temperature. These are good up stored tightly wrapped at room temperature for up to 5 days after being made.