Print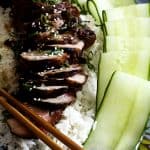 Chinese Barbecued Pork (Char Siu), Homemade Five Spice
Fragrant, moist, and full of flavour (garlic, ginger, Sriracha, ) with a sticky-sweet, slightly charred glaze, this Szechuan Chinese restaurant standard is worlds better made at home! This recipe is for four pork tenderloins, leaving plenty to freeze for fast meals at a later date!
For Homemade Five Spice Powder:
2

teaspoons

Szechuan Peppercorn

8

whole star anise

1

tablespoon

fennel seed

1

tablespoon

ground cinnamon

1/2

teaspoon

ground cloves
For the Chinese Barbecue Pork:
4

good sized boneless pork tenderloins

about 4-6 pounds total weight

1/2

cup

hoisin sauce

1/2

cup

soju or light rum

Korean rice liquor

1/3

cup

brown rice syrup or honey

plus additional for brushing while grilling

1/4

cup

soy sauce

2

tablespoons

Sriracha

2

tablespoons

toasted sesame oil

2

tablespoons

ground ginger

2

tablespoons

granulated onion or onion powder

2

tablespoons

red beet powder

can omit or substitute with 1 teaspoon red food colouring

1 1/2

tablespoons

Homemade Five Spice or purchased five spice powder

1 1/2

tablespoons

granulated garlic or garlic powder
To Make the Homemade Five Spice:
Put a clean, dry, heavy-bottomed skillet over medium low heat. Add the Szechuan peppercorns and shake the pan back and forth until the peppercorns are fragrant, about 2 to 3 minutes. Immediately add them to a spice grinder with the fennel seed and star anise. Grind until the mixture is as finely powdered as you can make it. Shake it through a fine mesh strainer. Discard what remains in the strainer. Take the sifted spices and stir in the ground cinnamon and cloves. Return this mixture to the spice grinder and grind momentarily to better combine the spices. Store in an airtight container in a dark, cool cupboard. For most potent flavour, use within three months.
To Make the Chinese Barbecued Pork (Char Siu):
Add everything but the pork tenderloins and the spare honey to a large, resealable, zipper-top bag. Seal the bag and use your hands to gently squish and combine the ingredients until it is evenly mixed. Open the bag and add all of the pork tenderloins. Squeeze as much air out of the bag as you can, reseal it, place it on a rimmed baking dish and refrigerate for 12 to 24 hours, turning the bag halfway through the marinating process.

Preheat oven to 375°F. Place the tenderloins on a rimmed baking sheet and roast for 20 minutes. While the tenderloins are roasting, begin preheating a grill, using high heat on half of the grill and low heat on the other half. When the tenderloins have roasted for 20 minutes, transfer them to the HIGH heat side of the grill. Drizzle honey over the tops of the tenderloins and use a heat-proof pastry brush to distribute the honey. When the bottom of the tenderloin has good colour, about 4 minutes, flip it over, drizzle it again with honey and brush to distribute. The second side should colour up more quickly than the first as it was brushed with honey. When that has nice colour and a couple of charred bits, transfer it to the LOW heat side of the grill, flipping it over in the process. Continue drizzling with honey, brushing, and grilling until the internal temperature of the thickest part of the tenderloin measures at least 145°F (medium rare). Transfer the cooked tenderloins to a clean, rimmed baking dish and lightly tent with foil. Allow them to rest for at least 3 minutes before slicing or chilling.
To Serve Immediately:
Slice or dice the pork -hot, warm, or room temperature- and serve over rice, in soup, or on sandwiches or salads.
To Freezer for Later Meals:
Chill the cooked Chinese Barbecue Pork (Char Siu) before wrapping tightly in a double layer of plastic wrap and then a layer of foil. Place the wrapped pork on a baking sheet and put into the freezer. When the pork is frozen firmly, place the wrapped pork in a labeled, resealable zipper top bag and freeze for up to 6 months.
To Reheat:
For best results, remove the desired number of cooked tenderloins from the freezer, remove the foil and double layer of plastic wrap, and thaw in the refrigerator overnight. Reheat in a 350°F in a foil covered rimmed baking dish until heated all the way through, about 15-20 minutes.

If you're in a hurry, remove the foil and one layer of plastic wrap, then defrost gently in the microwave. Remove the last layer of plastic wrap, place in a rimmed, microwave safe dish, cover the dish with plastic wrap, venting one corner, and reheat on medium temperature until hot all the way through. The timing of this will depend on the strength of your microwave.
Nutrition Facts
Chinese Barbecued Pork (Char Siu), Homemade Five Spice
Amount Per Serving
Calories 270
Calories from Fat 45
% Daily Value*
Fat 5g8%
Cholesterol 110mg37%
Sodium 481mg20%
Potassium 738mg21%
Carbohydrates 11g4%
Protein 36g72%
Vitamin C 1.6mg2%
Calcium 34mg3%
Iron 2.3mg13%
* Percent Daily Values are based on a 2000 calorie diet.