Print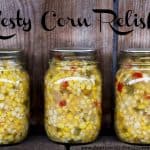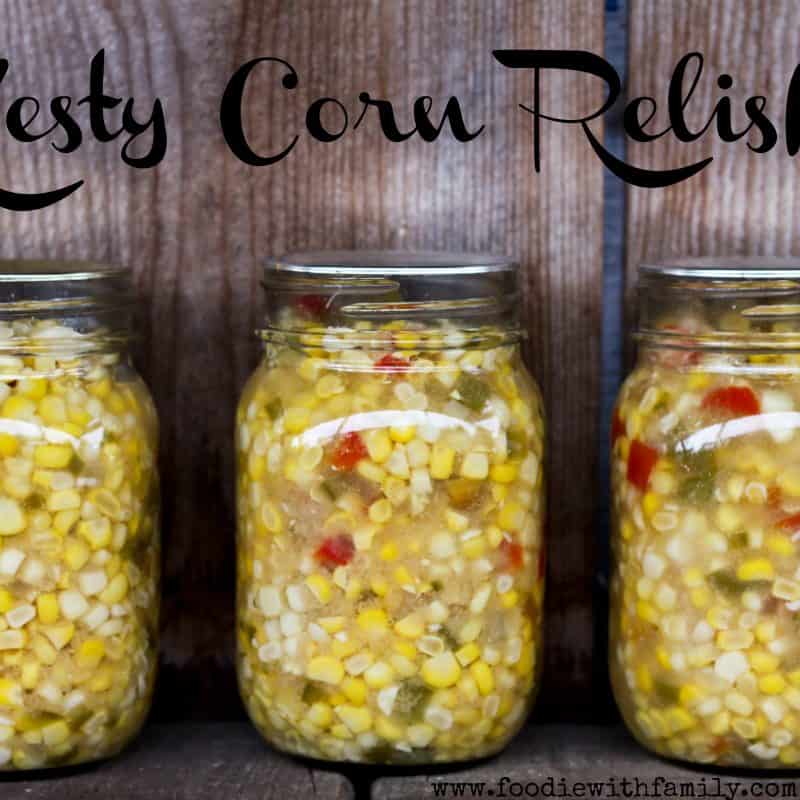 Zesty Corn Relish | Canning
Serve this updated classic corn relish with tacos, chili, beans and rice, pot roast, grilled or broiled chicken, pork, or fish, sausage, stir it into jarred salsa for extra texture or serve it alone with tortilla chips as a stand alone salsa. You can even chill a jar and serve it as a side salad! Trust me. Once you've tried this, you're going to want shelves lined with crunchy, savoury, sweet, zippy, Zesty Corn Relish.
Total Time
1
hour
15
minutes
18

ears of fresh sweet corn on the cob

2

cups

diced red bell pepper

1 1/2

cups

diced green bell pepper *See Notes

1/2

cup

minced fresh jalapeno **See Notes

1/4

cup

minced garlic

2

tablespoons

coarse Kosher salt

4

teaspoons

dried mustard powder

4

cups

cider vinegar

1

cup

water

2/3

cup

light brown sugar
Sterilize at least 10 pint jars (you may only use 6, but it's better to have too many jars ready than to have to sterilize more jars while your relish waits!) If you need help learning how to do this,

follow these instructions.

Shuck the corn and carefully remove the silks. Stand each ear of corn sturdily on its end on a cutting board and use a sharp knife to remove the kernels. Discard the cobs

(or use in Corn Stock

In a large stainless steel or other nonreactive pot, stir together all of the ingredients and bring the mixture to a boil, stirring occasionally. When it reaches a boil, reduce the heat to medium low and simmer for 20 minutes.

Ladle the hot corn relish into sterile jars, leaving 1/2-inch of headspace in the jar. Remove air bubbles, adjust corn and liquid level if necessary to maintain the 1/2-inch headspace. Wipe and clean the rim of the jars with a paper towel moistened with vinegar. Fix new two piece lids in place and screw the rings to fingertip tightness.

Put the filled, lidded jars in a canner, ensure they are covered by at least an inch of hot water, bring to a boil, and process for 15 minutes at a full boil, covered. When the 15 minutes are up, turn off the heat, remove the lid and let the jars rest in the water for 5 minutes before carefully transferring to a wire rack or a clean towel lined counter top.

Let them cool, undisturbed, for 24 hours. When they are completely cool, carefully remove the rings, wipe the jars clean, label (with sharpie or sticker), and store on a shelf in a place out of direct sunlight for up to a year.
You can adjust the proportions of green bell peppers and jalapenos to make the level of heat exactly as you prefer it. Want it totally mild? Omit the jalapenos entirely and use 2 full cups of green bell pepper. Would you like it to pack some punch? After stemming the jalapenos, leave the seeds intact when you're mincing them and increase the overall amount of jalapenos while decreasing the amount of green bell peppers. IMPORTANT! If you are increasing one type of pepper, do not forget to decrease the overall amount of the other pepper by the same amount. You must keep the total of the green or jalapeno pepper at 2 cups to maintain the proper acidity to prevent microbial growth in this relish.
*If you want your jalapenos to be a little more powerful, leave the seeds in when you mince them. I prefer to remove the seeds before mincing because I like the texture better. Follow your own preference for the ultimate Zesty Corn Relish.
Nutrition Facts
Zesty Corn Relish | Canning
Amount Per Serving
Calories 73
% Daily Value*
Sodium 447mg19%
Potassium 204mg6%
Carbohydrates 15g5%
Protein 1g2%
Vitamin A 425IU9%
Vitamin C 22.9mg28%
Calcium 10mg1%
Iron 0.4mg2%
* Percent Daily Values are based on a 2000 calorie diet.