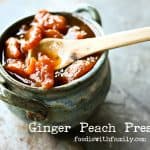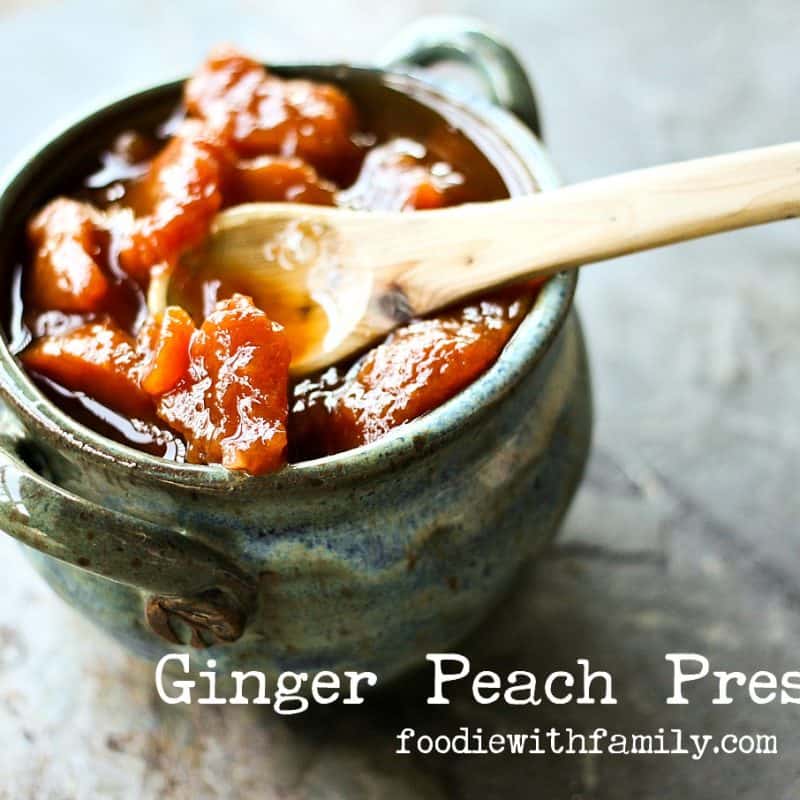 Print
Ginger Peach Preserves
Adapted from Preserving with Pomona's Pectin
Bring a canner of water to a boil and sterilize your jars and rings. Put your lids in hot water to wait for you.

Cut your peaches in half, remove the pits and peel them. Cut the peaches into even sized pieces; about 1/2 to 3/4 inch in size. Add the peach pieces, water, and piece of fresh ginger to a heavy-bottomed saucepan. Bring the mixture to a boil over high heat, cover the pan, drop the heat to medium low, and simmer for 4 minutes or until the peaches are softened but still have shape and body to them. Remove the mixture from the heat, fish the ginger piece from the peaches, and scoop 4 cups of the cooked peaches into a liquid measuring cup. Add the dried ginger, lemon juice and calcium water and stir well. You can keep any excess for topping ice cream!

Whisk the sugar and pectin powder together in a bowl until even. Set that aside.

Pour the measured 4 cups of peaches back into the saucepan and bring to a full, rolling boil over high heat. While stirring constantly, slowly add in and incorporate the sugar/pectin mixture. Stir enthusiastically for 1 to 2 minutes to dissolve the pectin and return the preserves to boiling. As soon as they return to a full boil, remove the pan from the heat.

You can pour into jars and store in the refrigerator for up to a month, or you can can the preserves for shelf stability.
To Can Ginger Peach Preserves:
After sterilizing the jars, use a ladle to fill the hot jars to within 1/4 inch of the rim of the jar. Wipe down the rims with a paper towel dampened with white vinegar, put on lids, screw the rings to fingertip tight. Carefully lower the jars into the boiling canner water, add the lid to the canner, and return to a boil. As soon as it reaches a full, rolling boil, process for 10 minutes. After 10 minutes, turn off the heat and let the jars rest in the canner for 5 minutes, then transfer to a cooling rack or towel lined counter top to cool, undisturbed, for 12 to 24 hours. After cooling, wipe clean, label, and store on a shelf.