Print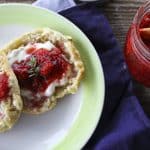 Strawberry Balsamic Thyme Freezer Jam
Don't let the complicated name fool you. This freezer jam is pure strawberry. While the balsamic vinegar and thyme may sound wacky, they both simply enhance the explosive natural freshness of strawberries.
4

cups

mashed

hulled strawberries

2

tablespoons

balsamic vinegar

2

tablespoons

fresh lemon juice

¾-2

cups

granulated sugar

1

tablespoon

Pomona's Universal Pectin Powder + ¼ cup Pomona's Calcium Water

*See notes, or more, if necessary.

1

cup

water

3

sprigs fresh thyme
Prepare freezer-safe jars or containers with airtight lids that can hold up to 6 cups of jam. (**See Notes)

Stir together sugar, crushed berries, balsamic vinegar, calcium water, and lemon juice in a large mixing bowl. Add sprigs of thyme to water and bring to a boil. Strain and measure ¾ cup into a blender carafe. Sprinkle the pectin powder over the boiling water in the blender and add the lid. Open the vent on the blender lid, cover with a doubled dish towel or wash cloth, and blend on high for 1-2 minutes or until the pectin powder is completely dissolved. Scrape into the berry mixture and stir well.

Pour the pectin water into the berry mixture and stir very well to combine. It should start to gel visibly. If it does not gel (although the gel will be much more soft-set than cooked jam), add 1 teaspoon of calcium water and blend well, repeating if necessary.

Ladle into prepared containers to within ½" of the rims, fix the lids on tightly and freeze immediately.
*If you can't or don't want to find Pomona's Pectin, you can make your normal freezer jam (following the directions for the pectin you use) but adding 1 tablespoon each of balsamic vinegar and lemon juice per 2 cups of crushed berries along with the amount of sugar specified in the pectin's recipe.. To infuse the jam with thyme flavour, simmer the fresh thyme sprigs with the water and pectin. **You can use Gladware or Rubbermaid containers or canning jars. I prefer to use canning jars with two piece lids.