Print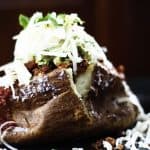 Midwestern Tacos | Taco Topped Baked Potatoes
Hearty, comforting, perfect baked Russet potatoes stand in for the usual taco shell in these fabulous Midwestern Tacos where the crispy, salted potato skin and fluffy potato insides carry spicy chorizo, taco or shredded meat, refried beans, grated cheese, salsa, onions, guacamole and sour cream. Let everyone customize their own. This is perfect for Super Bowl Sunday, game day or any day and is a great way to use up leftovers!
For the Potatoes:
Desired number of large Russet potatoes

*See Notes, scrubbed under running water and air dried.

olive oil

coarse salt

either sea or kosher
Optional Toppings:
Fully cooked chorizo

shredded pork, chicken or beef

refried beans

shredded cheese

Cheddar and Monterey Jack cheese are both good choices.

salsa or taco sauce

chopped sweet onions

guacamole

sour cream

fresh cilantro or lettuce
To Bake the Potatoes:
Preheat the oven to 425°F.

Use a fork to jab the potatoes about 6 to 8 times all over them.

Put the potatoes in a large mixing bowl, drizzle olive oil over them and use your hands to smear the oil over the potatoes to completely coat them. Sprinkle the potato skins with the coarse salt and lay them directly on the wire racks in the oven. Bake for 30-50 minutes, or until they are easily pierced with a fork, butterknife or cake tester. Because everyone has a different idea of what constitutes a large potato, begin testing around the 30 minute mark and go from there. My potatoes usually take closer to an hour.

Wearing oven mitts, transfer the finished potatoes to a baking dish or rack.
To Serve the Potatoes, Midwestern Taco Style:
Using a fork, repeatedly jab the potato about 3/4- to 1-inch deep in a line from end to end, overlapping a little with each poke. Turn the fork perpendicular to that line in the center and jab once at the same depth. If the potatoes are still screaming hot, put the oven mitts back on for the next step.

Hold both ends of the potatoes and squeeze gently while pressing down slightly This will make the potato BURST open at the top and make the fluffy insides craggy so that toppings can settle into the nooks and crannies or butter can melt in or whatever you put on top will soak in. This is a very good thing.

Top with desired taco toppings, starting with meats/beans/cheese and moving up through salsa, onions, ending with guacamole and sour cream, if desired. Serve immediately. Store leftover potatoes in a bowl in the refrigerator, uncovered.
Make more potatoes than you think you'll need! Leftover potatoes are great for making potato soup, potato salad, potato skins and more. Besides, a leftover potato all on its own makes a nutritious and hearty snack!