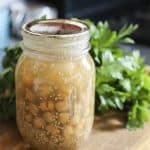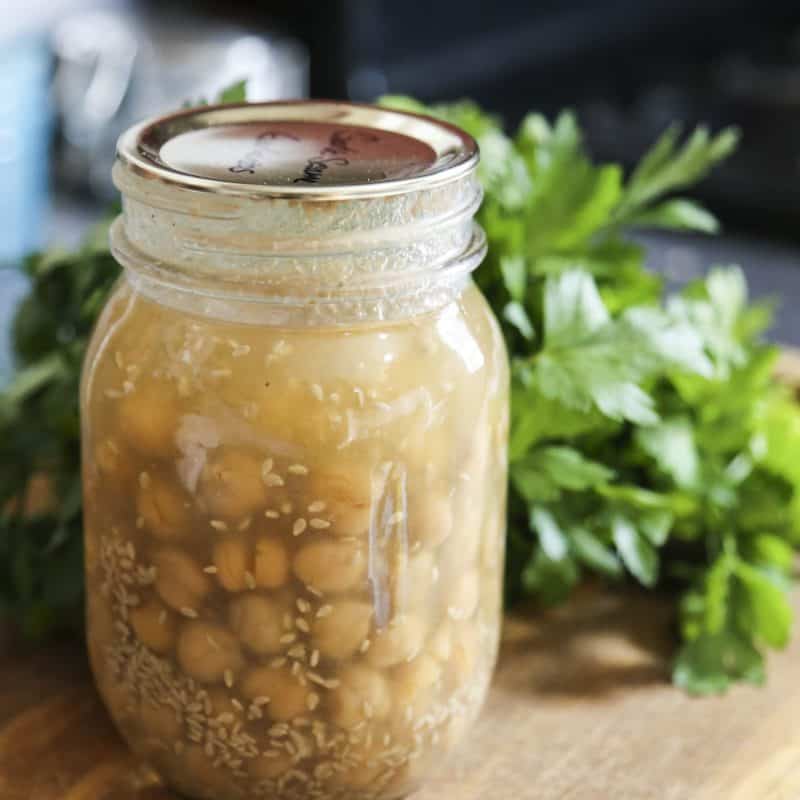 Print
Instant Hummus in a Jar
Instead of gathering a multitude of ingredients, hummus can be as easy as popping open a jar, pouring the contents into a food processor, and letting it go until smooth as silk!
Soak the garbanzo beans for 12 to 18 hours. Drain well, then transfer the beans to a large stockpot. Cover with water by 2 inches and bring to a full rolling boil.

Add 1/4 cup of sesame seeds and 3 large garlic cloves to each of 6 pint jars. Use a slotted spoon and canning funnel to transfer the boiled beans into the jars, leaving a generous 1-inch of headspace. Follow this by adding 1/4 cup of lemon juice and then top off the liquid in the jar to witihin 1 full inch of headspace by adding the beans' cooking liquid.

Use a chopstick to release any air bubbles in the jar and adjust the liquid level, if needed, by adding more bean cooking liquid. Moisten a paper towel with vinegar and use it to wipe the rims of the jars.

Place the lids on the jars and fasten appropriately, whether it's turning a ring to fingertip tightness or fixing clamps in place.

Process in a pressure canner according to the manufacturer's instructions at 10 pounds of pressure for 75 minutes. Let the canner come back to atmospheric pressure naturally, then open the lid and transfer to a towel-lined rack to cool undisturbed for 24 hours. Remove the rings, wash and label the jars, and store in a cool, dry place for up to 1 year.
To Make Hummus from Instant-Hummus-In-A-Jar:
Pour the liquid from the jar through a fine-mesh sieve to prevent losing the seeds. Reserve the liquid and set aside. Pour the contents of the jar into a food processor fitted with a metal blade or blender. Use reserved liquid to thin, if desired.