Print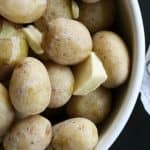 Salt Potatoes
Salt potatoes are a fixture of summertime picnics, feasts, barbecues and festivals in Western New York for great reason; they're creamy, tender, salty, buttery and vastly superior to the average boiled potato.
3

quarts

of water

12

ounces

fine salt

approximately 1 1/2 cups

4 1/4

pounds

one-to-two bite sized new white boiling potatoes

*see notes, washed

1

stick cold butter

4 ounces, cut into 8 pieces

Optional:

Chopped parsley for garnish
Bring water to a boil in a large stockpot or soup pot over high heat.

When water reaches the boil, stir in all of the salt.

Lower the potatoes into the water, one or two at a time, taking care not to splash yourself.

Return the water to a boil, lower heat to medium and simmer until the potatoes are tender, between 15 and 25 minutes, depending on the size of the potatoes. (**See notes for methods on testing the potatoes for doneness.)

Pour the water and potatoes into a colander in the sink and leave to air dry for 5-10 minutes.

Transfer the potatoes to a serving dish and dot with the pieces of butter.

Serve as is or garnish with chopped parsley.
To Store Leftovers:
Pour potatoes and butter from the bowl into a container with a tight fitting lid or a zipper top bag.
*Salt potato kits, sold all over Upstate New York, use a very specific size of potatoes; Size B, Grade US no. 2. While most grocery stores don't define their potatoes using this method, you can't go wrong buying small creamer potatoes that are one-or-two-biters. The shape of the potato doesn't matter at all. **To test your potatoes, use tongs to lift a large potato from the boiling water. A skewer plunged into the potato should pass through the potato completely if it is done.
Nutrition Facts
Salt Potatoes
Amount Per Serving
Calories 112
% Daily Value*
Sodium 13219mg551%
Potassium 796mg23%
Carbohydrates 23g8%
Protein 4g8%
Vitamin C 21.9mg27%
Calcium 75mg8%
Iron 6.4mg36%
* Percent Daily Values are based on a 2000 calorie diet.