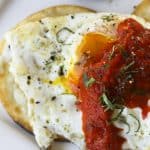 Print
Roasted Red Pepper Spread | Gardener's Delight Eggs
This almost instant breakfast delivers a hugely satisfying punch of flavour courtesy of big, bold, smooth, garden-fresh Roasted Red Pepper Spread dolloped on fried eggs with pan-fried tortilla rounds. This breakfast will keep you going for hours.
1

egg

1

tablespoon

butter

1

flour tortilla

cut into quarters or rounds (with a biscuit or cookie cutter)

2

tablespoons

Roasted Red Pepper Spread

see recipe above

salt and pepper to taste

Optional: Fresh basil

thinly sliced (chiffonaded)
Melt the butter in a heavy-bottomed skillet. Crack the egg and slide it onto the skillet near one edge. Place the tortilla rounds or wedges along the other side of the skillet. Flip the tortilla rounds when they begin to lightly brown. Toast the other side and transfer to a serving plate.

Cook the egg, flipping once if desired, to your preferred doneness. Use a spatula to place the fried egg on top of the toasted tortillas. Top the egg with the Roasted Red Pepper Spread. Sprinkle with fresh basil, if desired.