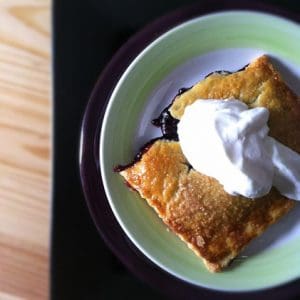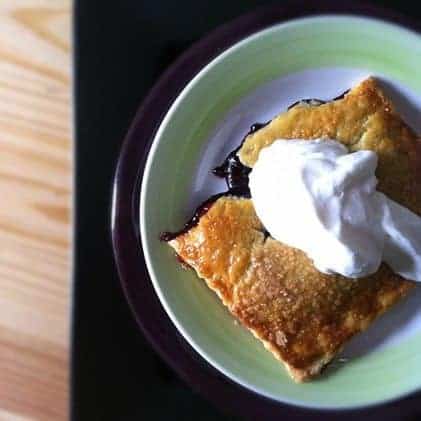 Mini Fruit Hand Pies | Make Ahead Mondays
Crunchy sugar coating on a buttery, crumbly crust wrapped around real fruit filling is good enough all by itself, but if you serve it warm with a scoop of ice cream or freshly whipped cream on top, you're heading into nirvana territory. You can simplify this recipe further by using purchased pie crusts and pie filling. It goes without saying that homemade filling and crust will make it taste that much better, but all pie is good pie!
For the Crust (Can substitute 2 purchased pie crust rounds):
Also needed to bake the pies:
To Make the Crust:
Pulse the flour and salt together in the bowl of a food processor fitted with a metal blade. Open the food processor and add in the butter. Replace the lid and pulse until the butter and flour resemble small peas. Pour the ice water and egg yolks in through the feed tube and process until a coarse dough forms. Turn the shaggy dough out onto a lightly floured surface and press together with your hands until it holds together well. Divide into two equal pieces and form into 1/2-inch thick rectangles. Wrap each rectangle in plastic wrap and chill for at least twenty minutes (but up to 2 days) before rolling.
To Make the Pies:
Line one or two baking sheets with parchment paper and set aside.

Lightly flour your work surface and place an unwrapped rectangle of pie crust dough on the counter. Sprinkle a little flour on top of the dough.

Roll it into a larger rectangle that is about 12-inches by 10-inches. Use a bench knife, pastry wheel or pizza cutter to divide the dough in half vertically. Score the dough lengthwise also, dividing the dough into 4 smaller rectangles, to help you visualize where to put the pie filling.

Spoon about half a cup of pie filling near either side of the split on the dough.

Fold the outside edges (using a bench knife to help lift the dough, if needed) toward the center and drape it over the pie filling, pressing down and crimping the seams to keep the filling from leaking.

Use your bench knife or cutter to split between the pies again (just to be sure nothing is sticking!). Use a spatula or bench knife to transfer the pies to the parchment lined pans. Don't worry about leaving too much space between them, because you'll be freezing them.

Repeat with remaining pie dough and filling. Cover the pans lightly with plastic wrap and place in the freezer until frozen solid, about 4 hours.

When firm, carefully transfer the frozen pies to a resealable freezer bag and keep frozen for up to 3 months.
To Bake Pies:
Place desired amount of pies 2-3 inches apart on a rimmed parchment lined pan. Preheat oven to 425°F. Brush the tops of the pies with the beaten egg and sprinkle each pie with a teaspoon of raw sugar. Cut two small vent holes in the tops of the pies.

Bake for 15 minutes, lower the heat to 350°F, and bake for another 10-15 minutes, or until pies are deep golden brown and filling is bubbly.

Let cool on the pans for 10 minutes before transferring to a cooling rack to finish cooling. Serve warm or room temperature. Leftovers can be stored, tightly wrapped, at room temperature for up to three days.
Nutritional information is an estimate and provided to you as a courtesy. You should calculate the nutritional information with the actual ingredients used in your recipe using your preferred nutrition calculator.