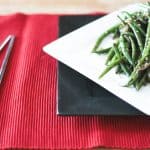 Print
Simple Garlicky Green Bean Stir Fry
Crisp-tender, garlicky, gingery, and coated in a slightly sweet sauce, these spicy green beans are good enough to be a stand-alone vegetarian main dish, but are intended to be served alongside any number of stir-fries or grilled or fried meats. Healthy tastes great! Adapted, with thanks, from Kalyn Denny of Kalyn's Kitchen
1

pound

fresh green beans

Preferably haricot vert, but any fresh green bean will do., ends trimmed if necessary, and strings removed if they are particularly stringy.

2

tablespoons

canola

vegetable or peanut oil

3

cloves

garlic

peeled and minced

1

tablespoon

of ginger

peeled and minced

1/2

teaspoon

crushed red pepper flakes

Omit if you're sensitive to heat.

1

large yellow onion

1/2

teaspoon

salt

1 1/2

tablespoons

water

2

tablespoons

oyster sauce

found near the Asian foods in most grocery stores.
Cut and discard a thin disc from both the blossom and stem ends of the onion. Peel the onion and cut in half from top to bottom. Lay each half and cut the onion into slivers (again from top to bottom) that are about the same thickness as the green beans.

Put a large wok or heavy pan with a tight fitting lid over high heat for 1 or 2 minutes or until you can no longer hold your hand a couple inches above the pan because it is too hot. Carefully add the oil to the pan and swirl to heat it through. When the oil is shimmery -about 30 seconds- add the garlic, ginger, onions and crushed red pepper flakes. Use two wooden spoons to keep the contents moving until they are fragrant, about 30 seconds. Add all of the green beans and the salt and use the two spoons to toss the green beans, garlic, ginger and onions. Cook for 2 minutes, stirring every 30 seconds or so. Add the water and put the lid on the pan. Let the beans steam for 5 minutes, checking about halfway through to see if it is too dry. If the pan is dry, add a teaspoon of water, replace the lid and continue steaming.

After 5 minutes, remove the lid and add the oyster sauce, using both spoons to toss the beans and sauce together. Continue cooking over high heat for 2 minutes, or until the oyster sauce is distributed evenly and the beans are all coated and crisp-tender.

Serve hot garnished with sesame seeds, if desired.

Leftovers (if you have some) store well tightly covered in the refrigerator and reheat very well either in the microwave or in a covered saucepan with a splash of water.