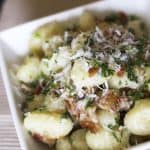 Print
Creamy Bacon Gorgonzola Gnocchi
Pillowy gnocchi lightly fried in bacon fat, then tossed into a simple pan sauce of bacon, three cheeses, parsley and green onion.
2

1 lb boxes gnocchi

1/2-3/4

of a pound of sliced bacon

cut cross-wise into 1/2-inch strips

1-4

tablespoons

crumbled Gorgonzola cheese

to taste (If you are averse to bleu cheeses, you can substitute an equal amount of mozzarella or fontina here.)

1

cup

shredded mozzarella

1/4

cup

grated Romano cheese

plus extra for serving

2

thinly sliced green onions

green part only

1/4

cup

parsley

finely chopped
Bring a large pot of water to a boil.

In a large, heavy skillet over medium high heat, cook the bacon until it is browned and crisp-chewy. Use a slotted spoon to transfer the bacon to a paper towel lined plate. Drain off all but 2 tablespoons of the bacon drippings.

Cook the gnocchi according to the package directions in the pot of boiling water. Use a sieve or slotted spoon to transfer the cooked gnocchi from the boiling water to a colander.

Return the pan with bacon grease to medium high heat. Add the drained gnocchi and toss to coat. Cook the gnocchi, stirring frequently, until golden brown on most surfaces. Lower the heat to medium, add all of the cheeses and a deep spoonful of the water in which the gnocchi was cooked. Stir gently, adding more pasta water -if necessary- to help the cheese melt and form a sauce. Stir in the bacon, sliced green onions and parsley and serve hot with extra Romano cheese if desired.