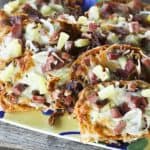 Print
English Muffin Bread Pizzas
A crispy crust, gooey and stretchy cheese, favourite pizza toppings and done in minutes to boot. Serve with a salad for a fast meal, or as a snack or part of your game day munchies. Comfort food is where it's at!
12

slices

about 1/2-inch to 3/4-inch thick English Muffin Bread or 6 English muffins, split

2

tablespoons

of extra virgin olive oil

3/4

cup

pizza sauce

2-3

cups

shredded mozzarella
Preheat oven to 425°F. Line a rimmed baking sheet (or two) with heavy duty foil or parchment paper.

Arrange the slices of English Muffin Bread (or the English muffins) closely on the lined pan. There should be just a small amount of space between the slices. Drizzle the olive oil evenly over the slices. Place the pan in the oven and bake for about 6-8 minutes, or until the olive oil is bubbly on the bread and the edges of the bread are golden brown. If you lift a piece of bread, the oil should have soaked through and be bubbly on the bottom, too.

Remove the pan from the oven and set on a heat-proof surface. Evenly divide the pizza sauce among the slices of bread and spread with the back of a spoon to the edges. Scatter the cheese over the tops of the bread, not taking too much care. There will be cheese that falls between the slices. That is not just okay; it's desirable! Scatter any additional toppings you like over the cheese and return the pan to the oven.

Bake for 10-18 minutes (depending on how browned you like your cheese). Let the pizzas cool for 3-5 minutes on the pans before using a spatula to transfer to a platter. Use the spatula to scrape up any crispy brown bits from the pan and toss those over the tops of the pizzas on the platter.

Serve hot, warm or room temperature.