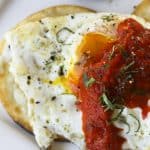 Print
Roasted Red Pepper Spread Gardeners Delight Eggs
Roasted Red Pepper Spread is just the thing to banish chills to the body or soul. It's everything wonderful about summer encapsulated in one little jar. The silky smooth, thick red pepper spread with the full taste -courtesy of tomatoes, garlic, onion, and red wine vinegar- is at home dolloped on fried eggs, spread on toast, as a pizza sauce, or as a dip (either alone or stirred into mayonnaise or softened cream cheese.) Adapted from The Ball Complete Book of Home Preserving
5 ¾

pounds

sweet red bell peppers

¼

pound

fresh cayenne peppers

or other red-hued hot peppers (If you don't like heat, use an additional ½ pound of sweet red bell peppers.)

1

pound

plum tomatoes

1

small onion

unpeeled and uncut

3

large cloves garlic

unpeeled and uncut

½

cup

red wine vinegar

2

tablespoons

packed, thinly sliced (chiffonade) of fresh basil

2

teaspoons

sugar

I prefer raw

1

teaspoon

salt
Preheat the broiler in your oven. Spread the peppers, tomatoes, onion, and garlic cloves in a single layer on a rimmed baking sheet. Roast under the broiler, turning frequently, until the peppers are softened and blackened all the way around, and the tomatoes, onion and garlic have some black spots on them. The more thoroughly blackened the peppers are, the easier they are to peel. Transfer the peppers and tomatoes to a paper bag, fold the top down three or four times to seal it, then let cool about 15 minutes, or until the produce is cool enough to handle. Set the onion and garlic on a cutting board to cool as well.

When the peppers and tomatoes have cooled, use your hands to rub the skins off as well as you can. Don't panic if a bit of the skin remains. Cut the peppers open in order to remove their stems and seeds. Rip the peppers into strips and put into a blender or food processor (in batches if necessary) and process until smooth. Pour into a stainless steel stockpot and repeat the process with the tomatoes.

Peel the onions and garlic then finely chop both. Add this and the remaining ingredients to the purees in the stockpot and stir to combine. Bring to a boil over medium high heat, stirring frequently to prevent scorching. Lower the heat to medium low and continue a gentle boil, stirring often, for about 20 minutes, or until the spread can be mounded on a spoon.

You may either refrigerate the red pepper spread at this point, or freeze it in single serving sizes, or can it to make it shelf stable.
To can the spread for long-term storage:
Ladle the hot spread into prepared 8-ounce jars leaving ½-inch of headspace. (For information on how to do this, click here ) Use a stainless steel chopstick or butterknife to remove any air bubbles. If the level of the spread lowers after air bubbles are removed, you can add more hot spread.

Wipe the rims of the jars with a damp cloth, put the lid in place, and screw on the rings until fingertip tight. Place on a rack in a canner, cover with hot water, and bring to a boil with the lid on the canner. Once the water reaches a full rolling boil, begin a 10-minute timer (15 minutes for pints). When the timer is done, remove the lid from the canner, turn off the heat and let it stand for 5 minutes before carefully transferring the jars to a towel or rack on the counter to cool, undisturbed.

When the jars are completely cool, remove the rings for storage, wipe the jars clean and label. Store in a cool, dry place for up to a year.