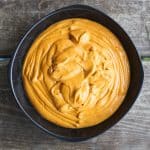 Print
Lemons in Salt
Unbelievably simple and adding incredible depth of flavour to whatever they're added, lemon peels preserved in salt are something every kitchen should have in abundance. Recipe used courtesy of Shauna Ahern of Gluten Free Girl.
Cut the lemon peel into slices. The size and shape is unimportant, it's just to make it take up less room in a mason jar.

Add the lemon peels to a mason jar and cover with a great deal of kosher salt.

Add the lid to the jar and shake well.

Pour more salt in if necessary to cover the lemon peels. Let set at room temperature and use as needed.

Replenish the lemon peels whenever you juice more lemons.