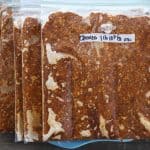 Print
Homemade Chorizo
Fresh Mexican style chorizo is as easy as mixing a simple, flavourful paste of chilis, vinegar, onion, garlic, herbs and spices into already ground pork. It's simple to stock your freezer and simpler yet to make a wonderful meal from your stockpile! Add to burritos, tacos, scrambled eggs, taco pizzas, breakfast burritos, nachos and more. Inspired by and with thanks to: Homesick Texan and GirliChef
10

dried guajillo chili peppers

stem and seeds removed

7

dried arbol chili peppers

stem and seeds removed

4

dried New Mexico chili peppers

stem and seeds removed

2

onions

peeled and chopped

5

cloves

garlic

peeled and coarsely chopped

1 1/2

cups

cider vinegar

2

tablespoons

ground cumin

2

tablespoons

Mexican oregano

can't find Mexican oregano? No prob. Sub in Mediterranean Oregano

2

tablespoons

kosher salt

3/4

teaspoon

ground cinnamon

1

tablespoon

freshly ground black pepper

or 2 teaspoons pre-ground black pepper

3

pounds

ground pork
Use a damp paper towel to wipe down the dried chili peppers. Toast the stemmed and seeded chili peppers until pliable (about 1 minute on each side) in a hot pan. Transfer them to a large non-reactive bowl (stainless steel, glass, or plastic), layer the chopped onion and garlic on top. Heat the vinegar (either in the microwave or on a stove top) until very warm to the touch. Pour over the chili peppers, onions, and garlic and lay a plate on top to weigh them down. Cover the bowl tightly with plastic wrap and let set at room temperature for an hour.

Transfer all of the peppers, onions, garlic, vinegar, cumin, oregano, salt, cinnamon and black pepper to a blender and process until you have a smooth, thick paste. If necessary, add another splash of vinegar to help things move along. Let cool completely.

When the chili paste is completely cool, mix thoroughly into the ground pork with the remaining ingredients using your hands until everything is a uniform colour.

Divide into one-meal portions and put each portion into an appropriately sized zipper top bag (For portions up to 3/4 of a pound, use a quart freezer bag. For portions up to 2 pounds in size, use a gallon freezer bag.) Squeeze as much air out as you can, seal the bag, and squash the bags as flat as you can. This will help them to freeze easily, take up less precious freezer space, and thaw more quickly when needed.