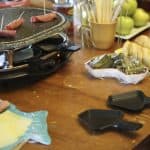 Print
Simple Raclette Dinner
Raclette dinners are the perfect prescription for the ailing dinner party. A leisurely meal of melted, bubbly cheese and hot, cooked-to-order meats and vegetables will ensure a good time is had by all.
1-2

pounds

small potatoes

boiled in their jackets and drained

1

pound

sliced deli ham

or smoked cocktail sausages or franks

1

cup

pepperoni slices

1/2

pound

sliced deli salami

1

cup

each halved mushrooms

sliced onions, black and/or green olives, dill pickles or cornichons, green pepper strips, and peeled garlic cloves

1

baguette or other loaf of hearty bread

sliced

1-2

pounds

assorted cheeses
Heat the raclette grill while laying out the meats, vegetables and bread on platters.

Pre-slice the cheese, or arrange it on a cutting board with a cheese plane.

Allow guests to cook their choice of meats and vegetables on the raclette top while melting cheese in the tray underneath.

Transfer the hot meats or vegetables to the plates and scrape the melted cheese over them.