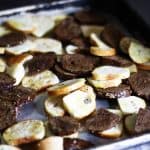 Print
Garlic Bagel Chips | Make Ahead Mondays
No one in my house can keep their hands out of the jar of garlic bagel chips. These perfectly crispy, salty, garlicky bagel crisps are an addictive snack! Eat them plain, with dip or topped with a little schmear of cream cheese and a little smoked salmon for a second-to-none appetizer.
6

savoury bagels

I like a mixture of pumpernickel and white bagels, most often of the everything sort., any variety

1/4

cup

extra virgin olive oil

3/4

teaspoon

fine salt

1/2

teaspoon

granulated garlic or garlic powder
Preheat the oven to 250°F.

Slice the bagels thinly -no thicker than 1/8 to 1/4 of an inch. How you slice them doesn't matter as much as how uniform they are. Take the time to make the slices as close to each other in size as you can. Put the bagel slices in a deep mixing bowl.

In a small liquid measuring cup, use a fork or small whisk to combine the olive oil and granulated garlic or garlic powder. Drizzle this over the bagel slices and use your hands to toss until the oil is evenly distributed. Scatter the salt over the top and toss again to evenly distribute it.

Divide the bagel slices between two pans, trying to keep them in a single layer. Bake for 45 minutes, rotating the pans ever 15 minutes, or until crisp but not hard. Remove the pans from the oven and let the chips cool completely on the pans before transferring to a jar or other container with a tight fitting lid.

These store very well at room temperature in an airtight container for up to 10 days.