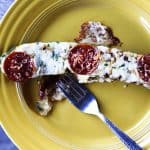 Print
Skinny Jeans Pizza {Zucchini Pizza}
One pan, thirty minutes, super healthy, totally satisfying. Top halved zucchinis with pizza sauce, shredded cheese, and sun dried tomatoes. If pizza just isn't pizza without pepperoni for you, add a couple of slices. Bake 'til bubbly and satisfy your pizza cravings the fast and healthy way!
3

medium sized zucchini

about 8-inches long

1/4

cup

plus 2 tablespoons pizza sauce (Homemade or purchased

1/2

to 1 cup shredded mozzarella cheese

1/4

cup

shredded Romano or Parmesan cheese
Preheat oven to 425°F.

Line a rimmed baking sheet with foil and spray lightly with nonstick cooking spray ~or~ use an unglazed stoneware rimmed baking sheet. Set aside.

Slice the zucchinis in half lengthwise. Remove a little disc from any protruding parts of the zucchini to help it lie flat on the pan without rocking from side to side. Arrange the zucchini halves -skin side down- on the prepared baking sheet.

Spoon 1 tablespoon of pizza sauce on each zucchini half and spread it evenly over the top. If using sun dried tomatoes, arrange them over the pizza sauce, reserving a couple for the top. Scatter the shredded cheeses evenly over all of the zucchinis. If using pepperoni, put no more than three pieces on each zucchini half.

Place the pan in the hot oven and immediately lower the temperature to 375°F. Bake for 30 minutes, or until the zucchinis are tender, but still have enough body to be lifted from the pan without falling apart.

If desired, garnish with minced parsley and/or basil immediately before serving.