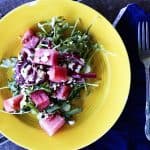 Print
Watermelon, Feta, Pickled Red Onion and Arugula Salad with Balsamic Reduction
Peppery arugula topped with sweet, icy cold watermelon, crunchy pickled red onions, briny crumbled feta, and balsamic vinegar that was so concentrated it tastes almost sweet. All things combine to form the perfect summer salad!
For the Balsamic Reduction:
3

cups

balsamic vinegar

1

tablespoon

honey

1

bay leaf
For the Salad:
6

cups

baby or tender arugula

2

cups

cubed watermelon

well chilled

1/2

cup

Quick Pickled Red Onions

drained

1/2

cup

crumbled feta cheese

or more to taste

balsamic reduction to taste

Start with 1 teaspoon and work up from there.
To Create the Balsamic Reduction:
Add the balsamic vinegar to a heavy-bottomed pot over medium high heat. Stir in the honey, add the bay leaf and bring to a boil. Reduce the heat to medium and let the balsamic vinegar simmer for about 30 minutes, or until it has reduced in volume to about 1 1/4 cups total. Immediately pour into a sterile jar with a tight fitting lid. Refrigerate until ready to use. Be sure it is well chilled before pouring on a salad. This will store indefinitely in the refrigerator.
To Assemble the Salad:
Arrange the arugula on a serving platter. Scatter the pickled onions over the top, followed by half of the crumbled feta, the watermelon cubes, and the remaining feta. Use a spoon to drizzle the balsamic vinegar reduction over the salad immediately before serving.