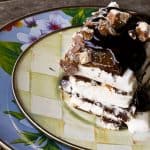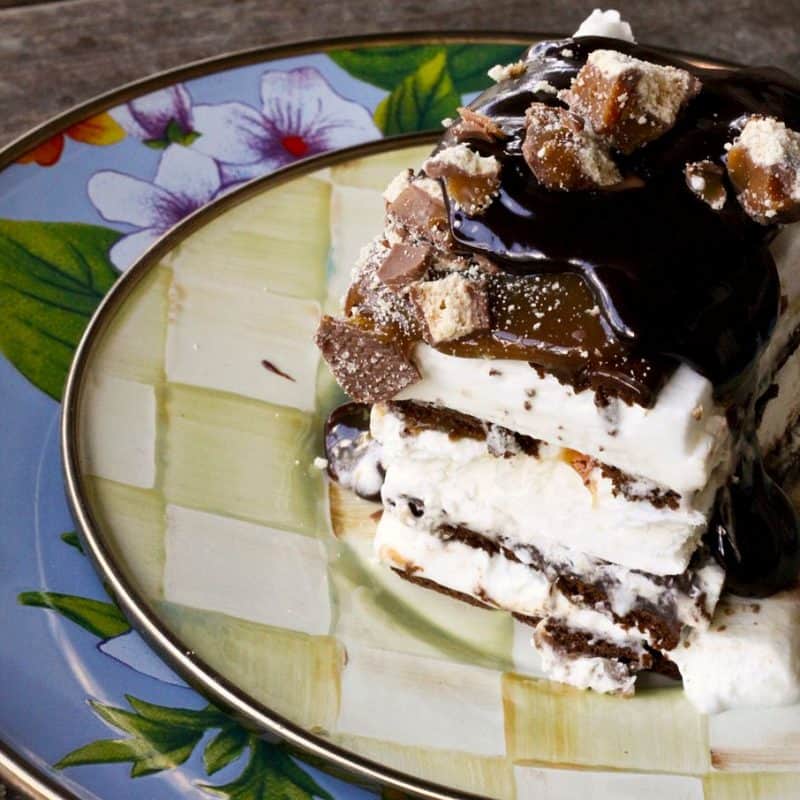 Print
Twix Ice Cream Sandwich Cake
Gooey, creamy, drippy, and absolutely, unequivocally indulgent is the only way to describe the Twix Ice Cream Sandwich Cake. Ice cream sandwiches are sandwiched around real whipped cream, hot fudge, butterscotch caramel and crushed Twix bars, then topped with a thick layer of butterscotch caramel and more Twix bars. This is killing your diet in style!
2

boxes regular sized ice cream sandwiches

12 count

1

cup

hot fudge sauce

Homemade is good but store bought is fine!

2

cups

butterscotch caramel sauce

homemade is good, but a 17 ounce container of store bought is fine, too!

1

pint

heavy cream

whipping

4

king sized Twix bars

*See Notes, frozen for at least 30 minutes, then smashed with something heavy to break them while still in their wrappers

Also helpful but not strictly necessary:

heavy duty aluminum foil
Press a sheet of aluminum foil into a 9-inch by 13-inch pan with a 2-inch overhang on each long side. This will act like a cradle that will help you remove the frozen cake for easier slicing if you wish. If you prefer, you can skip this step and cut it in the pan.

Arrange one box of the ice cream sandwiches in a single layer on the bottom of the pan, cutting if necessary.

Warm up the hot fudge sauce if necessary to make it spreadable then use a silicone, rubber, or offset spatula to spread it evenly over the ice cream sandwiches. Put that in the freezer while you whip the cream to firm peaks. Remove the pan from the freezer and spread the whipped cream evenly over the hot fudge.

Drizzle about 1/2 of a cup of the butterscotch caramel (warming slightly if necessary to make it pourable) over the whipped cream then open two packages of the broken Twix bars and scatter it over the top.

Arrange the second box of ice cream sandwiches over the top and gently press them into the whipped cream. Spread the remaining butterscotch caramel over the top and toss the other two broken Twix bars over the top of the caramel. Put the whole pan into the freezer until very firm, at least 2 hours. If you are going to wait longer than 2 hours to slice it, cover it tightly with plastic wrap after it is firm to prevent freezer burn.

You can either use the foil to remove the cake from the pan for easier slicing, or you can slice it in the pan.

Optional: Drizzle each serving with more hot fudge sauce before serving.