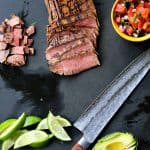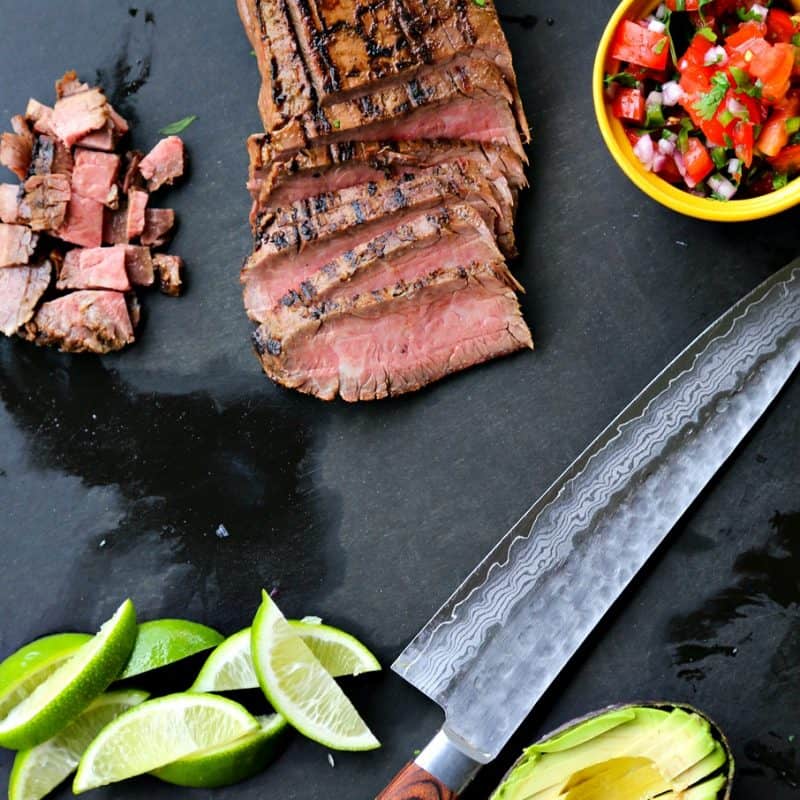 Print
Carne Asada {Grilled Beef for Salads, Tacos, and Burritos}
Marinate flank steak in this bold, flavourful marinade for at least 4 hours then grill up in mere minutes. The flank steak's exterior takes on a lovely char whichever temperature you prefer in the middle. Slice the beef thinly for salads, chop into bite sized pieces for tacos, or serve as you prefer in burritos or on burrito bowls.
For the Marinade:
the juice of 2 oranges

2

teaspoons

cayenne pepper

2

teaspoons

ground black pepper

2

teaspoons

kosher salt

1

teaspoon

cumin

4

cloves

garlic

peeled and minced

1

cup

extra virgin olive oil
For the Carne Asada:
1

full batch marinade

2

flank steaks Cut the flank steaks into halves

2 pounds each, You can substitute sirloin round steaks for a less authentic, but less costly and still delicious version., lengthwise.
To Make the Marinade and Marinate the Beef:
Combine the orange juice, cayenne and black peppers, salt, cumin, and garlic in a gallon sized zipper bag. Squish the contents to combine. Add the oil to the bag. Seal the bag and shake well before opening and adding the beef. When sealing the bag with the beef in it, try to squeeze as much air out as possible. Let the beef marinate in the refrigerator at least 4 hours but up to 8. It is not advisable to marinate longer than that as the meat fibers may begin to break down and become mushy.
To Grill the Carne Asada:
Preheat a grill to very hot (using hot coals if employing a charcoal grill.) Grill the beef over very high heat or hot coals for about 3 to 5 minutes per side, depending on desired doneness. I prefer my beef a nice medium rare, so I go for about 4 minutes per side. Use tongs to transfer the meat to a rimmed plate and let it rest for at least 10 minutes before slicing.