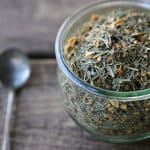 Print
Tummy Detox Herbal Tea {Lemongrass, Ginger, Lemon Peel Tisane Blend}
A calming blend of lemongrass, ginger, and lemon peel designed to soothe your stomach, aid your digestion, and flush the body of extra fluids.
For the Tummy Detox Herbal Tea Blend:
1

cup

dried cut and sifted lemongrass

1/4

cup

dried cut and sifted ginger root pieces

1/4

cup

dried cut and sifted lemon peel pieces or granules
To Brew the Herbal Tea Blend:
Mix the lemongrass, ginger root, and lemon peel together in a quart mason jar. Fix a lid in place and shake vigorously to combine evenly. Store in the jar, or transfer to an airtight tin.
To Brew the Herbal Tea Blend:
Add the measured herbal tea blend to a stainless steel tea filter or a refillable tea bag. Place in a mug and pour the boiling water over the top. If you have a lid or saucer, place it on top of the cup. Brew for up to 5 minutes. The longer you brew the blend, the stronger the tisane will be, and the more effective at flushing your system or soothing your stomach. If you brew the blend for under 2 minutes, you can re-use the same tea one more time. Simply place the tea filter or tea bag in a clean jar and refrigerate. For best results, re-use within several hours.