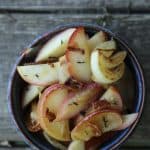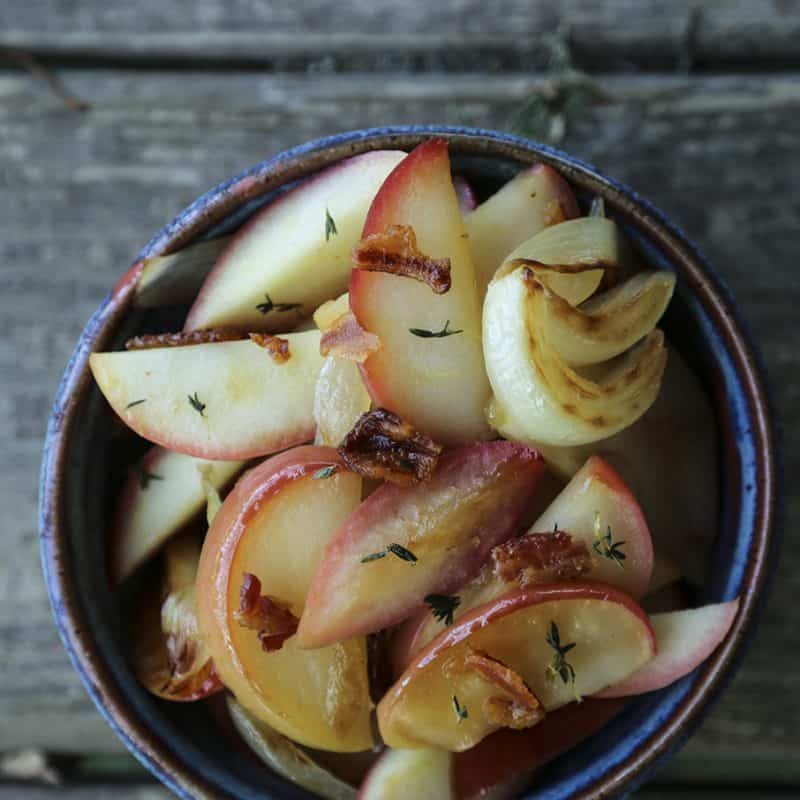 Print
Bacon Fried Apples and Onions
Tender, sweet, tart slices of apples fried in bacon fat with fragrant onions garnished with crisp bacon.
6

slices

of bacon

cut into thin strips

4

to 6 SnapDragon or other crisp

tart variety of apple

2

medium cooking onions

sprig of fresh thyme

freshly ground black pepper to taste
Place a large, heavy-bottomed skillet over medium heat and add the bacon strips. Fry until crisp. Use a slotted spoon to transfer the bacon from the pan to a paper towel lined plate. If there is more than about 1 tablespoon of bacon fat, drain the excess from the pan. If there is under 1 tablespoon, add enough butter to bring the fat up to about 1 tablespoon. Return the pan to the heat and add the apples, onions, and thyme. Toss to coat. Fry, tossing or stirring every so often, until the apples and onions are both tender. Remove the sprig of thyme before serving. Add freshly ground black pepper to taste.

If you wish to, you can garnish the Bacon Fried Apples and Onions with fresh thyme before serving.