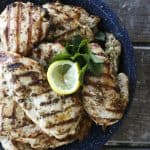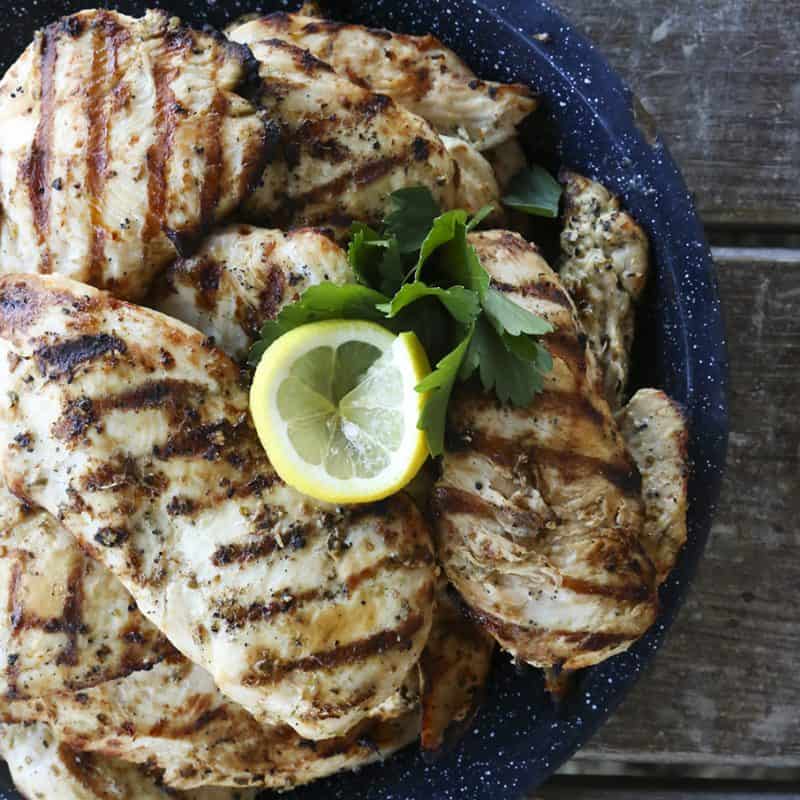 Print
Big Batch Greek Lemon Garlic Chicken
Flavourful, fragrant, juicy, grilled Greek Lemon Garlic Chicken is made in a big batch for eating right away and for quick meals later.
For the Marinade:
1/4

cup

red wine vinegar

1/4

cup

extra virgin olive oil

6

cloves

of garlic

peeled and minced or pressed through a garlic press

2

tablespoons

dried oregano

or 3 tablespoons chopped fresh oregano

2

teaspoons

kosher salt

3/4

teaspoon

freshly ground black pepper
For the Big Batch Greek Lemon Garlic Chicken:
Add all of the marinade ingredients to a gallon, zipper top freezer bag. Close the bag and squish to combine the ingredients. Open the bag, fold back the top a couple of inches and add the chicken breasts or thighs. Close the bag fully and shake and squish to evenly distribute the marinade amongst the pieces of chicken. Open the corner of the bag and squeeze out as much air as possible then reseal. Place the bag in a square or rectangular pan and refrigerate for at least an hour but up to four hours. If you can, flip the bag once, halfway through marinating time.

Preheat a gas grill to high heat. Use tongs to take one piece of chicken at a time and lay it onto the grill. Do not move the chicken once it is in contact with the grill. After 2 minutes, use clean tongs to rotate the chicken 90 degrees. This will give your chicken lovely grill marks. After another 1 1/2 minutes, flip the chicken over and cook for 1 minute. Rotate the second side 90 degrees for the cross-hatch grill marks, grill for 1 more minute, then transfer to a rimmed plate.

You can serve the chicken immediately, refrigerate and use within 3 days, or freeze the cooked chicken on a sheet pan. When they are solid, wrap each breast individually in plastic wrap and transfer to a zipper top bag. For best texture and taste, use within 3 months.