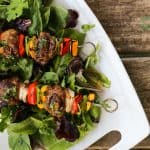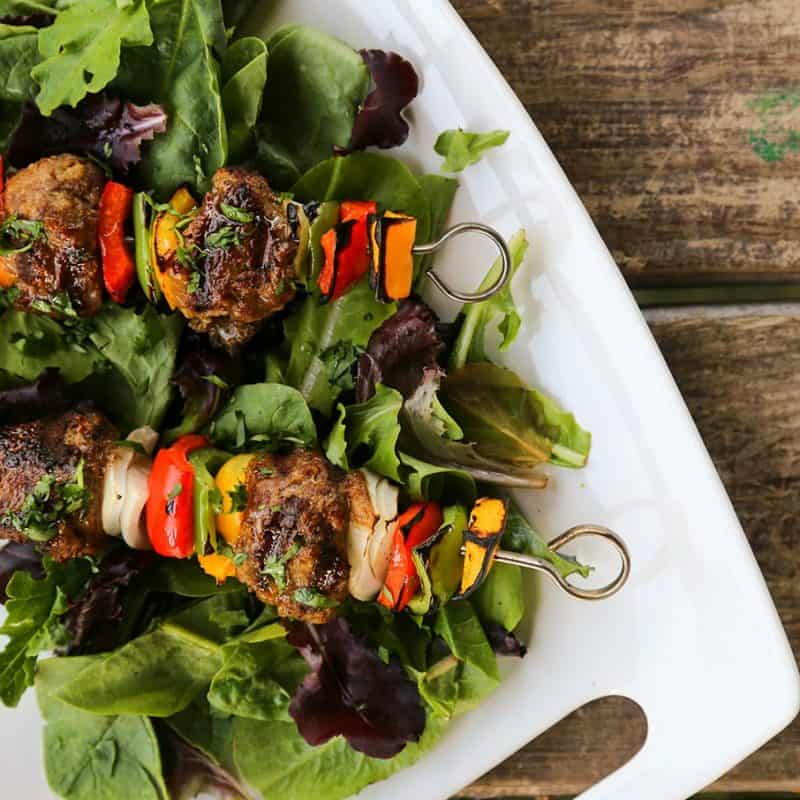 Print
Chimichurri Grilled Meatballs
Garlicky, uber-herbed, grilled meatballs are a little taste of Argentina. Grill on skewers with peppers and onions, or grill standing alone, but do make them! And when you have those gorgeous little grilled meatballs, drizzle the reserved chimichurri sauce over the top. Heavenly!
For the Chimichurri Sauce:
2

cups

packed fresh Italian parsley leaves

4

large garlic cloves

peeled and smashed

1/4

cup

packed fresh oregano leaves

or 4 teaspoons dried oregano

1/4

cup

red wine vinegar

1/2

teaspoon

red pepper flakes

1/2

teaspoon

kosher salt

3/4

teaspoon

freshly ground black pepper

1

cup

extra virgin olive oil
For the Chimichurri Grilled Meatballs:
2/3

of a batch of Chimchurri sauce ~or~ 2/3 cup jarred chimichurri sauce plus 1/3 cup divided

2

pounds

85/15 ground beef

1

cup

plain breadcrumbs

2

large eggs

1

tablespoon

kosher salt

2

teaspoons

freshly ground black pepper

Oil for the grill
To Make the Chimichurri Sauce:
Add the parsley, garlic, oregano, vinegar, red pepper flakes, salt, and pepper to the bowl of a food processor fitted with a metal blade. Process until finely chopped, stopping and scraping down the sides of the bowl with a rubber spatula at least once, about 1 minute total.

With the motor still running, drizzle in the extra virgin olive oil. Once the oil is in, stop the motor, scrape down the sides, and pulse a couple of times to combine. Scrape 2/3 of the Chimichurri Sauce into a large mixing bowl, and the rest into a smaller bowl. Cover the smaller bowl with plastic wrap and let sit at room temperature to meld while preparing the meatballs.
To Prepare the Chimichurri Grilled Meatballs:
Add the ingredients for the meatballs to the Chimichurri sauce (or 2/3 cup jarred sauce) in the mixing bowl. Use your hands to mix well until it all the ingredients are evenly distributed. Let the mixture rest in the refrigerator while you heat the grill.

Heat a propane grill to high or prepare a charcoal grill with a hot pile of coals and an area with low coals for later indirect heating. Scrub down the grates and use an oiled paper towel to lubricate the grates.

Roll the meat mixture into even meatballs, about 1.5 tablespoons each. You should get between 40-50 meatballs. Place the meatballs over the direct, high heat for 2 minutes, turn and grill 2 minutes more on the opposite side. Move the meatballs to the indirect heat, or lower the burners to low. Grill until the internal temperature of the meatballs reaches 165F. Use tongs to transfer the meatballs to a platter. Serve immediately, drizzled with the remaining chimichurri sauce, or chill and freeze in serving size portions.