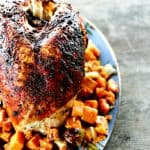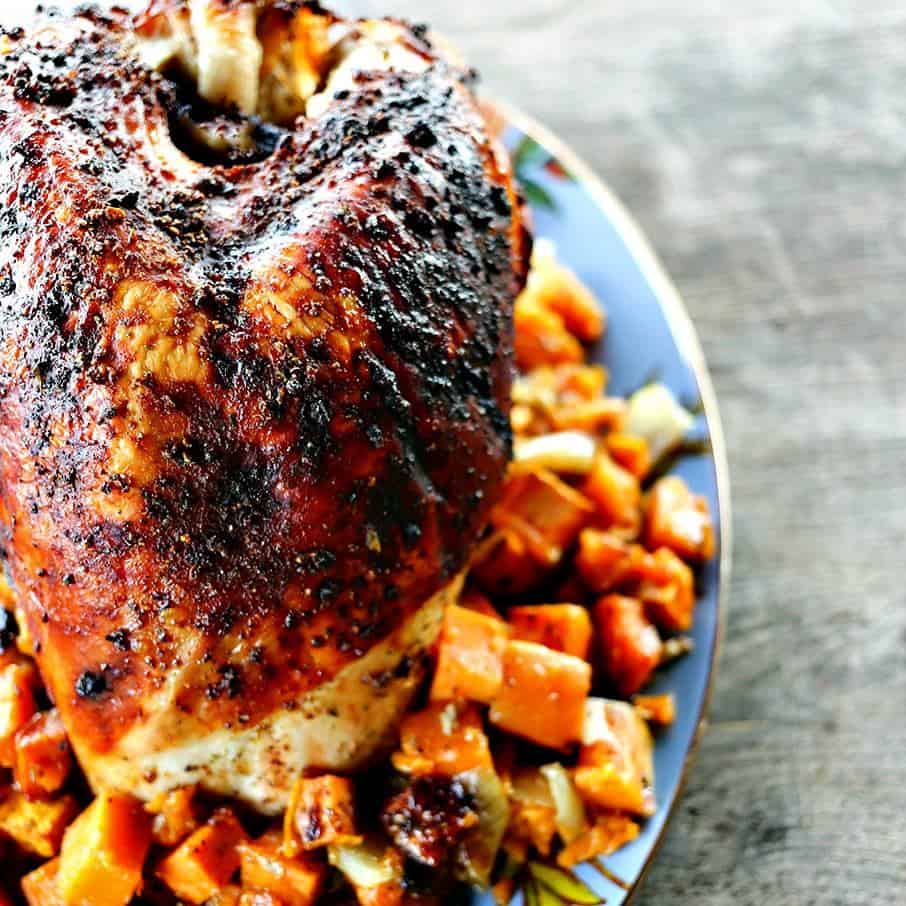 Print
1-Dish Roasted Turkey Breast Dinner with Sweet Potatoes
1-Pot Roasted Turkey Breast Dinner with Sweet Potatoes is so impressive, so delicious, and so easy that you'll make roasted turkey breast one of your regular meals!
2

large sweet potatoes

peeled and cut into 1 1/2 to 2-inch cubes

2

large onions

peeled and cut into 1 1/2 to 2-inch cubes

1

fresh or fully thawed frozen whole turkey breast

5 to 9 pounds

3

tablespoons

canola or olive oil

1

apple

cut into quarters

the zest of one large orange

1

tablespoon

of Cranberry Dry Rub per pound of turkey breast
Preheat oven to 450°F. Scatter the sweet potato and onion chunks over the bottom of a small roasting pan or 9-inch by 13-inch, deep baking pan. Nestle the turkey breast into the sweet potatoes and onions. Drizzle the oil over the turkey breast and stuff the apple quarters into the turkey's cavity. Rub the orange zest all over the turkey breast. Sprinkle the Cranberry Dry Rub over the turkey and massage it into the turkey breast with your hands. Place the roasting pan into the oven and roast for 30 minutes, then lower the heat to 375°F and continue to roast, stirring the potatoes every 20 minutes or so, until an instant read thermometer inserted into the thickest part of the breast reaches 165°F, about 2 hours. If the breast is browning too quickly, you can tent it lightly with foil.

When the turkey breast reaches 165°F, remove the pan from the oven, lay foil over the breast without crimping it in place, and let it rest for 10 minutes before carving.