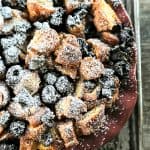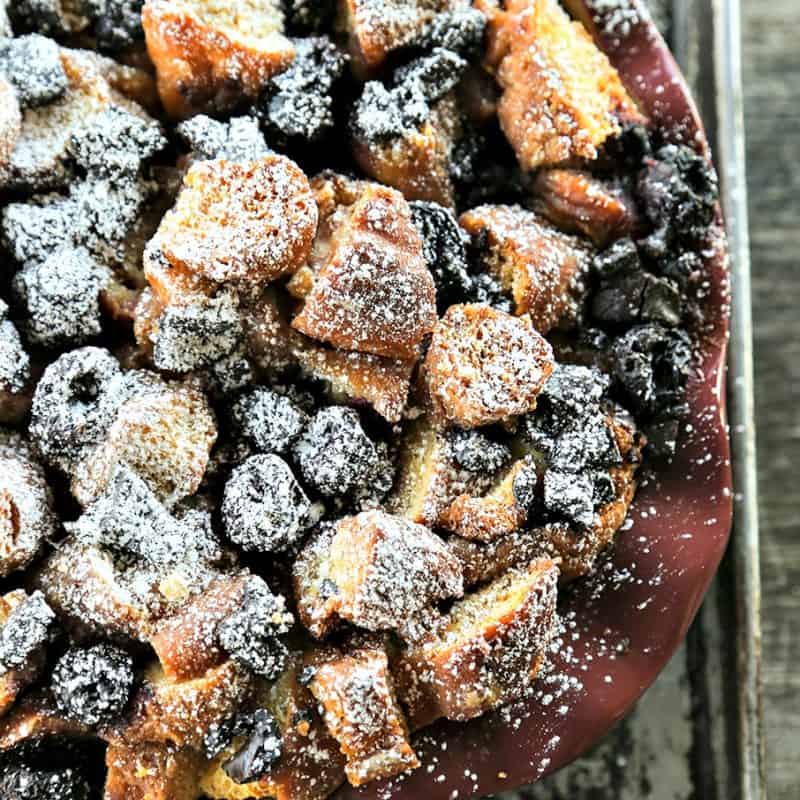 Print
Chocolate Cherry Doughnut Bread Pudding
Chocolate Cherry Doughnut Bread Pudding is rich, creamy, and souffle-like, and studded with sweet, black cherries and pockets of melted dark chocolate.
4

eggs

2 1/2

cups

whole milk

2

tablespoons

melted butter

plus extra for the pan

1

tablespoon

Whiskey Vanilla Extract or Pure vanilla extract

1/8

teaspoon

freshly ground nutmeg

½

cup

sugar

5

cups

stale glazed yeast doughnuts

cut into 1-inch cubes

1 1/2

cups

frozen black cherries

3/4

cup

bittersweet or dark chocolate chunks

non-stick cooking spray
Optional for serving:
a dusting of powdered sugar

whipping cream whipped just long enough to slightly thicken it
Beat the eggs, then add the milk, melted butter, vanilla, and nutmeg, whisking to combine evenly. Add sugar and whisk until sugar is dissolved. Toss together the bread doughnut cubes, cherries, and chocolate chunks. Generously butter a 9-inch baking dish. Arrange the doughnut bread cube mixture tightly in a nine-inch baking dish or deep dish pie pan. Pour liquid over the doughnuts. Press down lightly on the stale doughnuts to help them absorb the custard. Spray a piece of foil with cooking spray and place sprayed side down over the dish. Allow it to rest in the refrigerator for at least an hour or overnight so the doughnuts can soak up the custard.

After the mixture has soaked, let the pan rest on the counter top while you preheat the oven to 325°F. Place a bread or cake pan full of boiling water on the lower shelf. Bake the bread pudding on the upper shelf for 55 to 70 minutes, removing the foil after the first 40 minutes, or until the bread pudding is puffy and the crust is golden brown all over the top. Remove the Chocolate Cherry Doughnut Bread Pudding from the oven and allow it to cool and set up for 30 minutes before scooping and serving. If desired, dust with powdered sugar and spoon barely thickened cream over the bread pudding before serving.