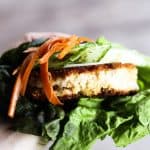 Print
Asian Salmon Burgers with Wasabi Mayonnaise
Crunchy, flavourful, Asian Salmon Burgers with a hint of ginger and scallion in them are as easy to make as they are delicious. Topped with a dollop of Wasabi Mayonnaise that can be as mild or as wake-you-up as you wish, and served on a toasted bun or lettuce leaf (for an even more waist-line friendly option) these are a surefire crowd pleaser and a wonderful addition to your Memorial Day fare.
For the Salmon Burgers:
2

pounds

salmon fillets

skin and bones removed carefully.

1 3/4

cups

panko breadcrumbs

preferably whole wheat, plus more if needed

1

bunch green onions

washed

¼

cup

mayonnaise

1

tablespoon

pickling liquid from a jar of pickled ginger

Gari

Oil for pan frying

canola, peanut, or vegetable
For the Wasabi Mayonnaise:
1/2

cup

mayonnaise

1-3

tablespoons

wasabi paste

according to taste
Optional Ingredients for Serving:
Whole wheat buns

like butter or red leaf lettuce, toasted ~or~ tender lettuce leaves

Asian Pickled Carrots

Asian Marinated Cucumber Salad

Pickled ginger
To Prepare the Burgers:
Cut the salmon into 2-inch chunks and put into the bowl of a food processor fitted with a metal blade. Pulse until the fish is broken down into chunky puree. It should still have pebble sized pieces (about ¼-inch) in it.

Scrape this into a bowl.

Cut the root end from the green onions, slice in half lengthwise, turn them 90° and slice them very thinly. Put this into the bowl with the salmon, ½ cup of the panko bread crumbs, mayonnaise, and pickled ginger liquid. Mix until uniform.

Line a baking sheet with plastic wrap or parchment paper. Divide the salmon mixture into 8 mounds and form those mounds into patties that are ¾-inch thick. Cover with plastic wrap and chill for 1-8 hours before cooking.

Pour the remaining panko bread crumbs onto a plate. Gently lift and place each salmon patty on the bread crumbs, press down lightly to help the panko stick, flip the patties over and repeat.

Heat a large, heavy-bottomed skillet over medium-high heat. When it is very hot, add about 1 tablespoon of oil to the pan and swirl it to coat.

Ease the panko crusted patties into the pan. A 12-inch pan should hold 4 patties at a time and still give you room to manoeuver the spatula when it comes time to flip them. Cook for 5 minutes, or until the first side is deep golden brown. Carefully flip the patties using a wide spatula. Be cautious because the oil will want to splatter. Fry the second side for an additional 3 to 5 minutes, or until golden brown and firm around the outer edges. Transfer to a paper towel lined plate or platter. Add another tablespoon of oil to the pan and repeat until fried all of the salmon burgers.
To Prepare the Wasabi Mayonnaise:
Put the mayonnaise in a small bowl and use a fork or small whisk to stir in the wasabi paste, starting with 1 tablespoon. Taste the mayonnaise and adjust with more wasabi if you want a stronger flavour.
To Serve the Salmon Burgers:
If you're watching how much bread you eat, serve the Salmon Burgers on a tender lettuce leaf topped with a dollop of the Wasabi Mayonnaise and any other optional toppings you'd like. If you want to eat it burger style, put a patty on top of a toasted whole wheat bun, spread some wasabi mayonnaise over the burger and top as desired.