Print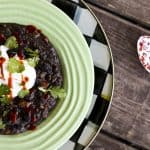 Brazilian Black Bean Stew {with roasted sweet potatoes}
It's hearty, thick, and eminently spoonable; soft black beans, fragrant garlic, sweet bell peppers, and tiny tender cubes of roasted sweet potato, are all suspended in a thick broth with tomatoes and a surprisingly perfect undertone of orange. It's what fall demands. Adapted from The Moosewood Cookbook
2

cups

dried black beans

rinsed and picked over, then covered by at least double the height of water to soak. *See Notes

5

cups

water

3

teaspoons

salt

divided

2

tablespoons

olive oil

divided

1

large sweet potato

scrubbed, peeled, and diced into 1/8 to 1/4-inch cubes

freshly ground black pepper

to taste

3

cups

chopped onion

2

tablespoons

minced garlic

divided

2

teaspoons

cumin

1/4

to 1/2 teaspoon cayenne pepper

to taste

1

medium carrot

peeled and minced

1

red bell pepper

seeded, stemmed, and diced

1 1/2

cups

fresh orange juice

or unsweetened orange juice

2

medium tomatoes

diced, or 1 small can of diced tomatoes

the zest of one orange
Preheat the oven to 425°F.

Drain and rinse your soaked beans, then add them to a large soup pot with 4 cups of the water. Bring to a boil, stir in 2 teaspoons of the salt, cover tightly, lower heat and simmer until the beans are very, very tender, about 1 hour and 15 minutes or so.

While the beans are simmering, toss the sweet potato cubes with 1 tablespoon of the olive oil, the remaining 1 teaspoon of salt and a goodly amount of freshly grated black pepper. Roast on a small rimmed baking sheet in the oven for 20 minutes, stirring every so often, or until the cubes are tender, caramelized on the outside, and lightly charred in just a few places. Set aside.

Add the remaining tablespoon of olive oil to a heavy-bottomed skillet or frying pan and swirl to coat. Toss the onions, carrots, half of the garlic, the cumin, cayenne, and a pinch of additional salt into the oil and saute over medium heat until the carrot is tender. Stir in the diced bell pepper and the rest of the garlic and saute until all of the vegetables are almost meltingly tender, about 10 minutes.

Scrape the cooked vegetables along with the tomatoes into the finished black beans. Add the orange juice and final cup of water to the pan used to cook the vegetables and swirl it to get all the good bits from it. Pour this into the beans as well. Use a stick blender to puree the stew ever so slightly. You still want a lot of texture in the stew! If you don't have a stick blender, you can scoop 2 cups into a blender and pulse to break it up before returning it to the rest of the stew.

After you've pureed, stir the roasted sweet potato cubes into the stew and simmer for another 8-10 minutes. Taste the stew, adjust seasonings if you wish, and serve with any or all of the optional toppings!
*To determine how much water to use to soak the beans, you want to add water to the container to about double the height of the beans. For example, if you add a 4-inch depth of beans to a container, you want to top it with an 8-inch depth of water.