Print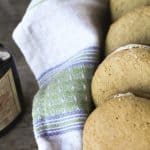 Ada and Anna's Maple Sandwich Cookies {Whoopie Pies}
These soft, brown sugar maple cookie sandwiches are filled with a fluffy maple flavoured frosting that stays nice and soft and doesn't harden like most frosting recipes. Make more than you think you'll need. Company is guaranteed if people know you've made these! Recipe courtesy of Ada and Anna Stutzman
For the Cookies:
1/2

cup

butter

softened

1

cup

brown sugar

2

eggs

1

teaspoon

maple flavour

1

teaspoon

baking soda

1/2

teaspoon

salt

3

tablespoons

heavy cream

2 3/4

cup

sifted flour
For "Fluffy Frosting":
2

cups

softened butter

or 2 cups shortening and 2 teaspoons butter flavouring, as Ada makes it.

2

cups

marshmallow fluff

store bought or [url:1]homemade. [/url

2

teaspoons

maple flavouring

2

teaspoons

vanilla extract

5 1/2

cups

powdered sugar

1/4

cup

whole or evaporated milk

or more as needed
To Make the Cookies:
Ada says to mix the ingredients together in the order given. In other words, use a sturdy spoon or stand mixer or hand mixer to cream together the butter and sugar until well combined and even. Then beat in the eggs and flavourings, soda, salt, cream then flour. Cover the bowl and chill for at least two hours.

Preheat the oven to 425°F.

Roll the dough out on a generously floured surface. Use a 2-3 inch diameter round cookie cutter to cut as many cookies from the dough as possible. Use a floured spatula to transfer the cookies to ungreased cookie sheets (or parchment lined sheets) about 2 inches apart. Re-roll the scraps of dough until you have used all the dough.

Bake the cookies for 8-10 minutes, or until they are just set and slightly springy. Ada advises not to overcook the cookies or they'll be too hard. Immediately after taking the pans from the oven, use a spatula to transfer the cookies to a towel lined counter. Let cool completely while you make the frosting.
To Make the Fluffy Frosting:
Ada uses her hands, so that is certainly an option, but you can also use a spoon, stand mixer or hand mixer to beat together the butter or shortening (and butter flavour), marshmallow fluff and vanilla. When that is smooth, stir in the powdered sugar and the milk. If more milk is necessary to reach a spreadable consistency, add it 1 teaspoon at a time. The finished frosting should be thick, but spread easily on a cooled cookie.
To Assemble the Cookie Sandwiches:
Spread about 1/4-inch of frosting on the back of a cooled cookie. Sandwich another cookie on top of the frosting, back to back. Repeat with remaining cookies. Store cookies in an airtight container. If you use butter, you should store them in the refrigerator. These are best when brought to room temperature before serving.