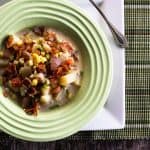 Print
Corn Stock plus Roasted Corn and Potato Chowder | Make Ahead Mondays
Make as much of the Corn Stock as you can while corn is still in season. You'll be so glad to have the essence of summery corn available to you in the winter. Use in stews, risottos, and soups. This luscious, hearty, rich chowder is resplendent with roasted corn (that which you cut from the cob and froze, you frugal cook you!), cubes of potato with a hint of red skin still on, and hints of orange carrot in a fragrant broth that smells just like fresh sweet corn and is made thicker and velvety with the addition of cream cheese.
For the Corn Stock:
2

dozen ears of corn

preferably, roasted and shucked or shucked and boiled

2

cooking onions

1

tablespoon

black peppercorns

1

handful fresh or frozen parsley stems

2

bay leaves

2

sprigs fresh time or 2 teaspoons of dried thyme leaves

2

gallons

fresh cold water
To Make the Corn Stock:
Stand an ear of corn up on its flat end on a cutting board. Using a gentle sawing motion with a very sharp knife, cut down the ears, removing the kernels from the cobs as you go. Transfer the corn kernels to a parchment lined, rimmed baking sheet and stick in the freezer until solid. Transfer those corn kernels to zipper top freezer bags and store for use in soups or salads.

Put the cleaned cobs along with the remaining stock ingredients into a large stockpot or electric countertop roaster oven. Cover the pot and bring up to a boil. Drop the heat and let it cook at a low simmer for 1-4 hours. Use tongs to remove the boiled cobs from the stock. (I give those to my chickens after they've cooled.) Pour the remaining liquid through a fine mesh sieve over a pitcher or other deep pot. You can use the stock immediately,

~or you can pressure can it (leaving 1-inch of headspace) in quart jars at 15 pounds of pressure for 75 minutes. The jars can be stored on the shelf for up to two years.

~or you can cool the stock and pour it into zipper top freezer bags in single use portions then freeze it for up to 6 months.

~or you can refrigerate it and use it within 2 weeks.