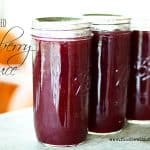 Print
Jellied Cranberry Sauce {canned or refrigerated}
Delicious, nutritious homemade Jellied Cranberry Sauce with a hint of orange is just what your cranberry sauce lovers want at the Thanksgiving table!
Combine the sugar, orange juice, zest and water in big stockpot over high heat. Bring to a boil. Add the cranberries and return to a boil. Reduce the heat and boil gently for 10 minutes while the cranberries pop open.
[img src="https://www.foodiewithfamily.com/wp-content/uploads/2013/11/Jellied-Cranberry-Sauce-2.jpg"]

Pour into a fine-mesh sieve over a heat-proof bowl until all that remains is a paste of little twiggy bits and seeds from the cranberries and orange zest. Pour into sterile canning jars, leaving 1/4-inch headspace. Wipe the rims, place new lids on the jars, and screw the rings into place until finger-tip tight.

Store in the refrigerator OR place the jars filled with hot cranberry sauce in a canner and cover with hot water. Bring to a boil and process for 15 minutes, whether in a pint, pint and a half, or quart sized jar. Turn off the heat, remove the lid from the canner and let the jars remain in the water for five minutes before transferring to a wire rack or towel to cool overnight, undisturbed. Wipe the jars down, label them, and store in a cool, dark place for up to a year.
Calories:
193
kcal
|
Carbohydrates:
50
g
|
Sugar:
49
g