Print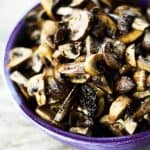 Roasted Mushrooms with Thyme | Make Ahead Mondays
These are perfectly roasted mushrooms -just a kiss of browning around the edges- substantial, meaty, and juicy, with a hint of thyme and nutmeg to amplify the natural flavour of the mushrooms. When I have a stockpile of Roasted Mushrooms in the freezer, I toss them in beef and barley soup and risottos, on pizzas, stuff them in grilled cheese sandwiches, and pile them on top of steaks, chicken, and burgers. On busy, busy, busy nights, I simply serve the mushrooms over polenta or rice with a shower of grated Parmesan or Romano cheese on top. It keeps the crew full and Mama happy!
52

ounces

of assorted fresh mushrooms

*See Notes

4

tablespoons

extra virgin olive oil

1

tablespoon

coarsely chopped fresh thyme or 1 teaspoon dried thyme leaves

3/4

teaspoon

kosher salt

1/4

teaspoon

freshly grated nutmeg

ground black pepper to taste

preferably freshly ground or crushed
Preheat oven to 375°F.

Thickly slice or quarter the mushrooms. Arrange them on 2 11-inch by 17-inch rimmed baking sheets in a single layer. Drizzle half of the olive oil over each pan, followed by roughly half of the thyme, salt, and nutmeg over each pan. Generously sprinkle the black pepper over the mushrooms. Stir with a spoon to evenly distribute everything.

Roast the mushrooms, stirring halfway through, for 20 to 25 minutes, or until they are hot through and beginning to brown around the edges. Eat immediately or divide into meal sized portions and freeze for up to 3 months.
*I prefer to use mostly baby bella mushrooms with a few white button mushrooms thrown in for variety. You can use whichever mushrooms you like best, but I do recommend using baby bellas or white button mushrooms for the bulk of the mushrooms.