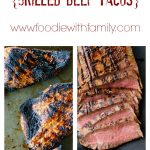 Print
Carne Asada Tacos {Grilled Beef Tacos}
Smoky, marinated, grilled Carne Asada is chopped up and added to a charred tortilla before being topped with ripe avocado slices, pico de gallo, cilantro, and whatever else your heart desires!
Garnishes that are optional but tasty:
Slice the Carne Asada diagonally against the grain. Turn the slices 90 degrees and chop across them, yielding small bites of beef that are no larger than 1/2-inch in any direction. Pile the beef in a bowl. Juices will accumulate at the bottom of the bowl.

Stack two warmed corn tortillas on a plate, pile with some of the chopped carne asada, drizzle with some of the accumulated juices from the bottom of the bowl holding the beef, and squeeze a lime wedge over the meat. Top with any or all of the optional garnishes. Serve immediately.