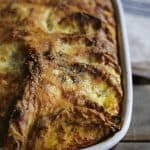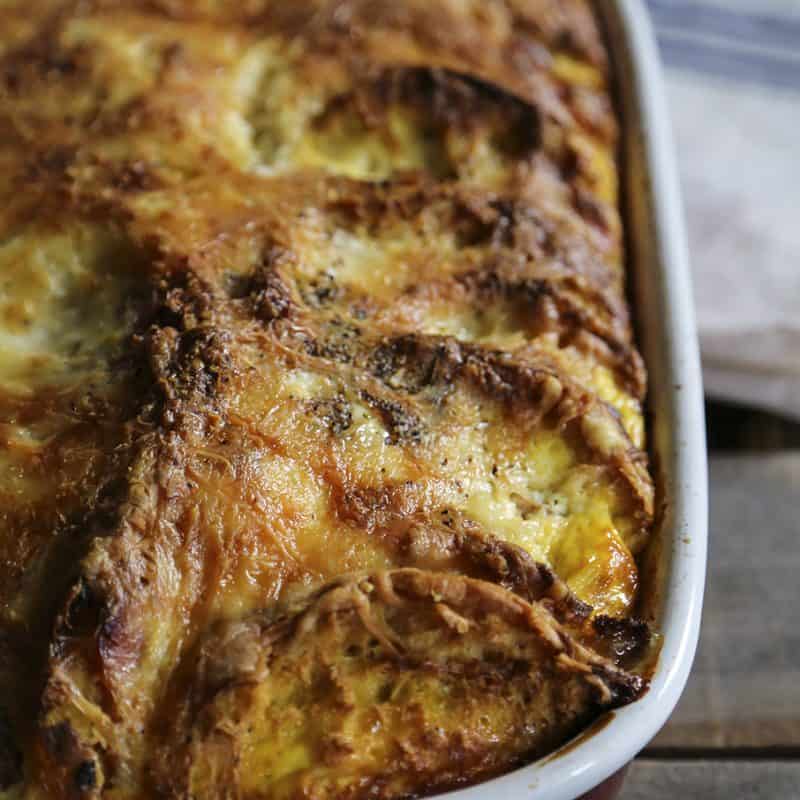 Print
Ham and Cheese Melt Egg Bake
This prepare-ahead egg bake tastes much like a classic ham, egg, and cheese on English muffin breakfast sandwich because it pulls all of those components in a souffle-like savoury strata or bread pudding.
non-stick cooking spray

8

English muffins

split and toasted

16

slices

Canadian bacon

about 3/4 of a pound

3

cups

Cheddar

shredded

1/3

cup

Swiss cheese

cubed

16

eggs

4

cups

milk

2

tablespoons

coarse grain Dijon mustard

2

teaspoons

hot sauce

3/4

teaspoon

kosher salt

3/4

teaspoon

freshly ground black pepper

3/4

teaspoon

granulated onion

1/2

teaspoon

granulated garlic
Lightly spray a 9x13 baking pan with nonstick cooking spray; set aside. Cut each of the toasted English muffin halves in half crosswise.

Arrange the English muffin pieces and Canadian bacon in alternating, overlapping layers in the prepared baking dish. Scatter the grated and cubed cheese evenly over the top.

Whisk together eggs, milk, Dijon mustard, hot sauce, kosher salt, black pepper, granulated onion, and granulated garlic in a large bowl. Pour over the contents of the pan. Cover tightly with plastic wrap and refrigerate for 6 to 12 hours prior to baking.

Place the 9-inch x 13-inch pan on another rimmed baking sheet and set on the counter while you preheat your oven to 350 degrees. Bake uncovered until puffed and set in the center, about 90 minutes or until an instant read thermometer registers 157F when inserted halfway into the center of the egg bake.

If the Ham and Cheese Melt Egg Bake starts browning too much before it puffs in the center, cover the pan loosely with foil sprayed with non-stick cooking spray to prevent the top layer being scorched. Remove the pan from the oven and let it rest, removing the foil if you had to use it, for at least 10 minutes before slicing and serving.

Store leftovers tightly covered in the refrigerator for up to a week.