As I walked up from the mailbox a couple weeks ago, I glanced through the pile of stuff; a bill, some advertisements, blah blah blah, and then something caught my eye. On the cover of the new issue of Whole Living was a pan full of what appeared to be roasted Brussels sprouts with grapes and walnuts. "Ooooh," thought I, "That looks good. I'll give that a look over as soon as I make myself a cup of tea." I walked in the door, sat the magazine down and never saw it again.
What happened to it? Who can say? What happens to anything that disappears in a home with five sons ages thirteen (for another two days) and under? Well, sometimes those things end up in the chicken coop under a pile of something I'd rather not describe on a food blog, or on the roof of the shed (not kidding), or buried under the gravel pile (with my soup spoon), or stuck on a pike in the boneyard (not so scary, really, it's a place where kids found a pile of deer bones left by the previous owner of our property, now a fertile ground for much imaginative play) as a pirate flag, or crammed under beds/van seats/recliners.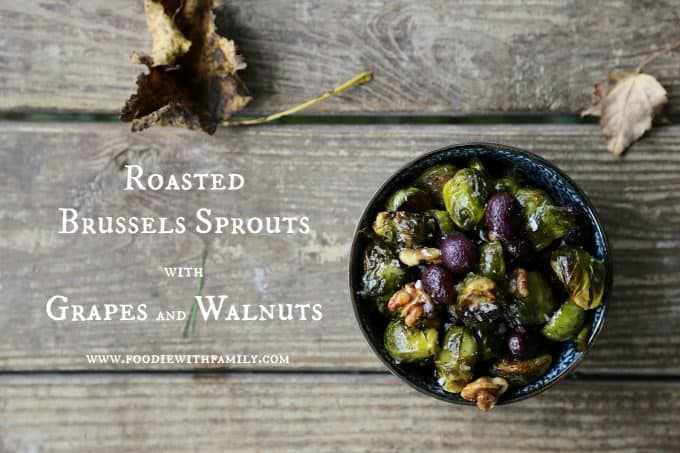 But the idea of the dish stayed with me. I didn't want to overthink it, because Whole Living usually has lovely, uncomplicated, pure flavours in their recipes. They don't get all wacky and difficult, God love 'em, so I decided the fewer ingredients, the better. I grabbed the ingredients I thought I would need the next time I went to the store and came home to try my hand at the version my imagination had supplied.
I was assembling my pan-o-sprouts when my husband walked by, stopped and backtracked. "You're putting grapes in with Brussels sprouts?" he asked incredulously. I decided to play it cool and replied with a, "Yep."  He shrugged his shoulders and moved on.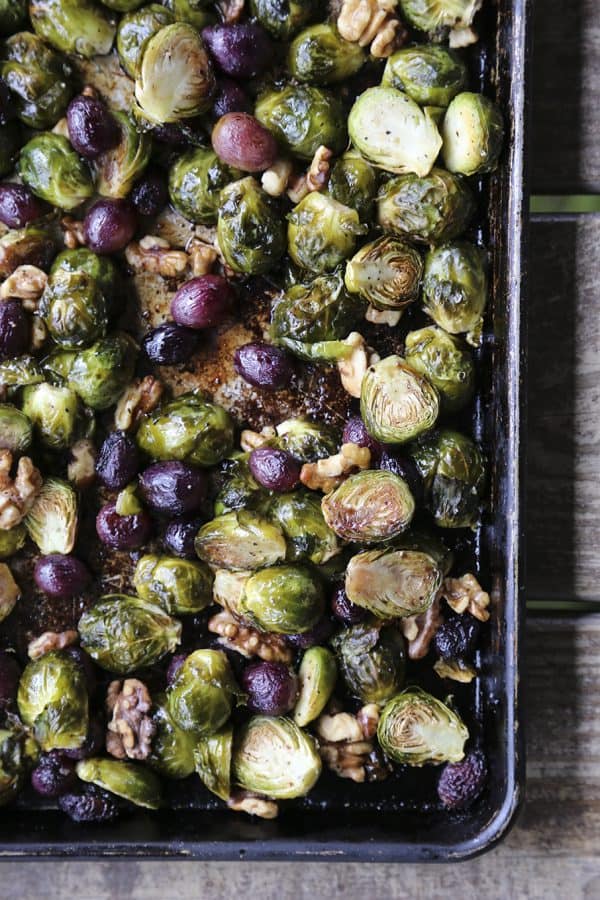 Thirty five minutes later I pulled a tray of roasted sprouts and other goodies from the oven and took a deep whiff. Oh my. That smelled pretty good. I splashed balsamic vinegar onto the hot pan and vegetables and it smelled even better. I tossed it all together and it smelled best yet. Then I called Mr. Doubtful into the room. "Give it a try," I said.
He did.
One grape, one Brussels sprout half and one piece of walnut in one bite. Then he went into broken record mode, trying the same combination again and again and again. "This is perfect. It is. You need one piece of everything for the perfect bite."
I probably don't need to tell you how well this would go with your Thanksgiving feast, but I should probably  mention that we ate a full pan of this the first night I made it and forgot all about the rest of the meal. And I would be remiss if I didn't tell you that with a little crispy bacon thrown in, this would be at home between a bottom layer of grits and a top layer of poached or fried egg. Then there's that little matter of throwing together with pan-fried ham pieces for a quick hash.
…I never did find my Whole Living, but I ran my version of the recipe past a friend who did not lose (or have lost on her behalf) her copy. As luck would have it, my method was the same and my end version differed only in the matter of quantity of olive oil and the fact that I didn't include fresh thyme. Score another one for approaching a recipe with simplicity.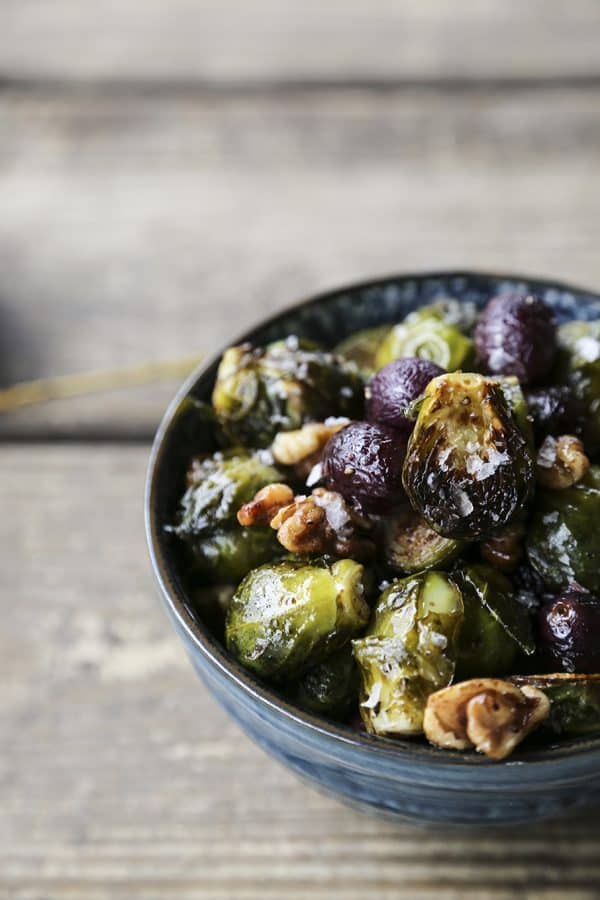 Cook's Notes
I know that frozen Brussels sprouts are often more readily available, but I really believe the best texture for Roasted Brussels Sprouts with Grapes and Walnuts is going to come from fresh sprouts.
Because there are so few ingredients in this recipe, you'll find you have a better result when you start with a better product. Be sure to pick super fresh Brussels sprouts. If you buy ones that are dried out or older, they will yield a dried out roasted end product.
Please start with walnut halves rather than chopped walnuts. The chopped walnuts are too fine and are likely to scorch in the roasting process. If you must use chopped walnuts, add them in the last 5 minutes of roasting.
I find half sheet pans are by far the most convenient pan for roasting my whole batch of Roasted Brussels Sprouts with Grapes and Walnuts. If you need one, you can find them at restaurant supply stores, some big box stores, and Amazon.com. They're a wonderfully versatile pan, last for almost eternity, and are very affordable.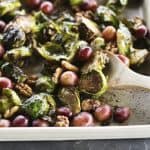 Roasted Brussels Sprouts with Grapes and Walnuts
Roasted Brussels sprouts are mellower than their boiled counterparts, and when combined with intense roasted grapes, toasted walnuts and balsamic vinegar you have a perfect dish that you have to taste to believe. Try it with your Thanksgiving feast, or on a night when you want to make ordinary extraordinary. Inspired by Whole Living.
Ingredients
1 1/2-2

pounds

fresh Brussels sprouts

2-3

handfuls of red

seedless grapes

1/2

cup

shelled walnuts

large pieces, not diced

1/4

cup

extra virgin olive oil

Kosher or sea salt to taste

freshly ground black pepper

2-3

tablespoons

balsamic vinegar
Instructions
Preheat oven to 400°F.

Trim the Brussels sprouts of any dry ends and loose leaves, then halve. Place halved sprouts along with grapes and walnuts on a rimmed baking sheet. Drizzle the olive oil evenly over the top, sprinkle with salt and pepper and toss to coat. Roast for 30-35 minutes, or until the sprouts are well-browned in places, the nuts are fully toasted and the grapes are darkened in colour and very plump.

As soon as you remove the pan from the oven drizzle the balsamic vinegar over the contents of the pan and toss to coat. Transfer to a serving dish and sprinkle with a little additional coarse sea salt.
This post was originally published November 16, 2011.