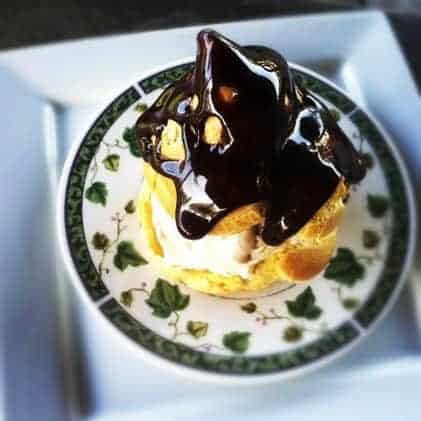 My husband turned eleventy one on Saturday.
Okay, not really… He turned forty six, but to hear the guy talk, he sounds like he thinks he's butter scraped over too much bread.  Don't feel too badly for him, though. He is the only person I've ever known in my life who -when asked how old he is- rounds up by a year or two. Somehow or another, he combines this funny aging complex with a playful personality. When we were dating, he once insisted, "I may be eight years older than you, but I'll always, ALWAYS be WAY more immature than you are!" He meant it.
This is the dad who does back flips off of the swings when he goes to the playground with the kids (giving me a heart attack in the process.) This is the husband who panics over the thought of picking out a gift for me, yet still pulls off the coolest gifts ever*. This is the guy who lost track of time while photo-documenting the entire process of a snake eating a frog in the side yard, thus missing a family picnic. This is the man who loves cartoons (Looney Tunes is top of the heap), anime, Laurel and Hardy, playing guitar and drums and piano and bass and, and, and… This is my guy.
*Knowing how much I love dance, he scored two tickets to a limited showing of a touring traditional Chinese dance troupe.  It required a trip to the city (he would probably rather have dental work done), going out to dinner (he'd prefer hitting his thumb with a hammer), and dressing up (he would rather let the eight year old drive the family van than dress up.) He got some serious husband points for that present.
…And whether he's turning eleventy one or forty six, I am going to try to make him a birthday feast that will make him borderline weepy with joy. This year was my year to earn points. I made a dinner comprised of his favourite dishes of all time and capped it off with the dessert that makes him clap his hands and laugh with anticipation. I'll be spending this week sharing my Evil Genius's birthday feast. We're going to start not at the beginning, but rather at the end of the meal, because it is the most perfectly perfect fit ever for Make Ahead Mondays. We're going Cream Puffy! Actually, we're going down Profiterole Lane, but let's start with the cream puffs.
Cream Puffs are another of those marvelous children of pâte à choux or choux paste. I've already told you a little of my love for choux paste, but I have much, much more to share with you, and THIS is one of my favourites. In this case, you nix the cheese and Dijon mustard and let the choux paste stand on its own. Oh man, let me tell you, you're going to make like my husband here and clap and laugh when you see this coming.
Profiteroles are the happy result of splitting a largely hollow cream puff in half and filling it with sweet, creamy filling. HOLLER! In this case, we're filling our profiteroles with ice cream and then drizzling warm hot fudge sauce over the whole thing. Then we drizzle the hot fudge sauce directly into our mouths. I mean, really. This is Grandma Val's hot fudge sauce that I'm using. I'm no fool.
That all sounds awesome already, right? Would you like me to make it even more awesome? 'Cause I can. And I will. It is more awesome because you can whip up that choux paste, pipe it out into the shapes you want and freeze them. Then you can have cream puffs and profiteroles any old time you want. You don't have to thaw the dough or anything prior to baking. You just pop them on a lined pan and bake. The only concession you have to make for baking them from frozen is that you add five minutes to the cooking time. That's do-able, right?
That's TOTALLY do-able. Make yourself some cream puffs. Make someone happy. Then make some  profiteroles and make someone ecstatic.
Cream Puffs and Profiteroles | Make Ahead Mondays
Did you know you can freeze cream puff dough (choux paste) and bake cream puffs from the frozen dough any time you want? It's true. Bake them up and fill those crispy, brown, mostly-hollow poufs with your favourite ice cream then drizzle with warmed hot fudge sauce as the ultimate reward for having a well-stocked freezer. Happiness is a warm cream puff with cold ice cream!
Ingredients
For the Cream Puffs:

1 stick (4 ounces by weight) butter
1 cup (8 ounces by weight) water
1/4 teaspoon kosher salt
1 1/4 cups (5 1/4 ounces by weight) all purpose flour
4 large eggs (preferably at room temperature)

For the Profiteroles:

Ice cream
Instructions
To Make the Cream Puffs:
Preheat the oven to 425°F. Line a large baking sheet (or two) with silpats or parchment paper.
Bring the water, butter and salt to a rapid boil in a heavy-bottomed, 2 quart capacity saucepan over high heat. Remove the pan from the burner and add all the flour at once. Stir strongly until the flour is completely wet. Return the pan to medium high heat and continue stirring strongly until a light film forms over the bottom of the pan and the dough is smooth and soft and forms a ball when stirred. Remove the pan from the heat. Transfer the dough to the bowl of a stand mixer fitted with the paddle (or to a large, heat-proof mixing bowl if a stand mixer is unavailable.) Let the dough rest for 10 minutes.
After 10 minutes, add the eggs one at a time, beating well after each addition. After the final egg is added, beat on high for at least 2 minutes, but not more than 4. (If beating by hand, you can count this as a large part of your daily workout. Beat it into submission!)
You must pipe or scoop out your cream puff dough immediately, but there are two options for after you portion them out. Either way, begin by using a pastry bag with a large plain tip or spoons to portion the dough into 16 equally sized rounds on the prepared pan(s). I use a pastry bag to pipe circles, piping in smaller toward the top. Traditionally, you tap down the little peaks that form, but my kids like to bite those off, so I leave them. Alternatively, you could use two large tablespoons portion it out, using one spoon to scrape the dough from the other over the pan.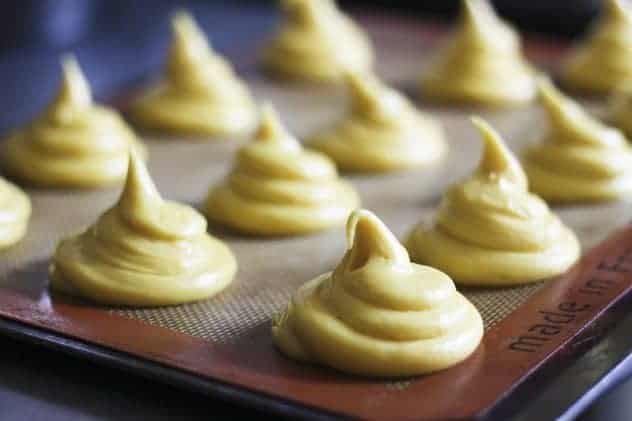 At this point you can put the pan directly into the freezer, transferring the cream puffs to a resealable zipper top bag or freezer safe container with a tight fitting lid for up to 3 months.
~or~
To Bake the Cream Puffs:
(If preparing from frozen, simply add 5 minutes to the baking time at the end.) Place pan in the oven, bake for 15 minutes. Do not open that door! After 15 minutes, lower the heat to 375°F and cook for an additional 15 minutes. When the time is up, turn off the oven and stick the handle of a wooden spoon in between the body of the stove and the door to hold it open just a little and let the cream puffs cool in the oven like that for 30 minutes. After 30 minutes, remove the pan from the oven. You can serve them immediately or cool to room temperature.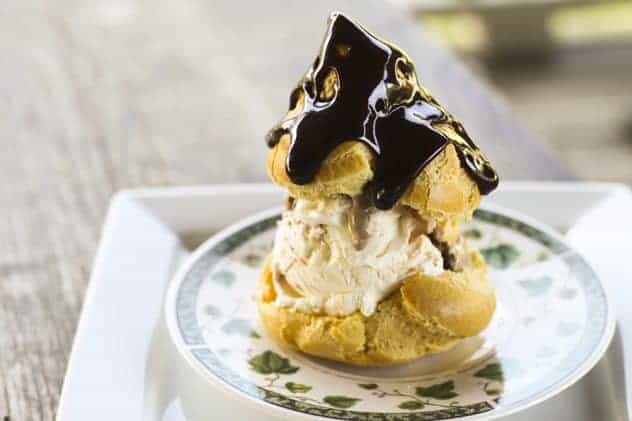 To Make Profiteroles:
Break open a cream puff at the midline (much like a muffin). Place the bottom on a plate, put a good sized scoop of ice cream on the base, add the top part of the cream puff and drizzle with warmed hot fudge sauce.
https://www.foodiewithfamily.com/cream-puffs-and-profiteroles-make-ahead-mondays/
Recipe printed from Foodie With Family | Rebecca Lindamood https://www.foodiewithfamily.com