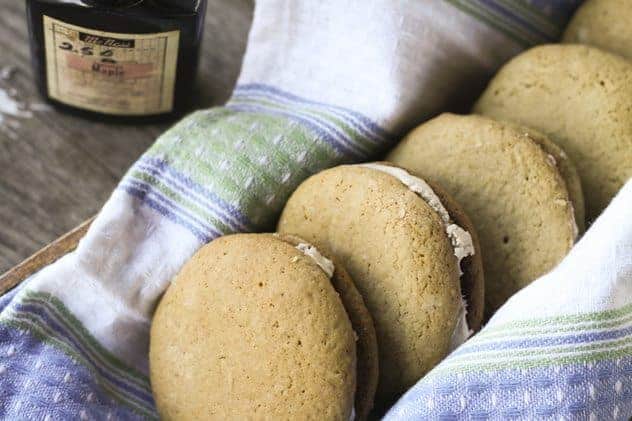 Ada and Anna are my secret weapons. They are an Amish mother and daughter who I am so glad to have as friends. They live just up the road from us with Ada's husband (Anna's father), Henry. Those three have to be some of the most fun-loving, joyful people I've ever met.
Ada's my ace in the hole for baking supplies. She runs a small bulk-foods store in a room of their workshop (Henry makes custom landscaping and building stones for a living) and I'm a frequent customer. Fifty pound bags of my favourite flours? No problem. She'll get them for me by next week. Fifty pounds of dark chocolate chunks for Christmas baking? They'll be in in about five days. I buy yeast, spices, candy, barley, cornstarch, baking soda and powder, and noodles by the pound at her store. I cannot even begin to calculate just how much money I've saved buying ingredients from her over the past two years.
Even if she wasn't such a great resource, I'd still find excuses to get up there and visit. Almost every time I stop by, I'm offered a bite to eat and Ada and Anna are no slouches in the baking department. In fact, their donuts are the only ones I ever actually crave… Those plate sized, maple glazed, lard fried donuts are just the things to bring a non-donut lover into the fold. And by into the fold, I mean give me folds in my chin because I can't stop eating them.
Last Friday I scooted up the hill to pick up a fifty pound bag of semolina flour that I was going to split with a friend. As I pulled into their driveway on that warm and glorious day, I could see them bustling around the kitchen with doors and windows open. "Hey Rebecca! Come on in and pull up a chair," they called. I sat down long enough to see that they were rolling out what looked to be a quintuple batch of cookie dough (and turned out to be a sextuple batch. I was close!) and the flour was flying. There was no way I was going to skip being part of that action. I rolled up my sweater sleeves and asked them to put me to work.
They did.
We rolled out, cut, transferred to pans and baked (in their wood-fired outdoor oven) one hundred and ninety two cookies, then made maple frosting to fill those cookies. In the final summation, we turned out eighty six maple sandwich cookies. While I was still using a flour coated spatula to transfer cookie dough rounds to the pans, Ada mixed the frosting with her hands and Anna started assembling the cookies. Anna padded over behind me and slid a finished cookie next to me on the flour covered table. She said, "I thought we'd better try a couple of these just to make sure we stay motivated." I'm fairly certain she twinkled as she said that and I'm more than certain I sparkled while I ate it.
You may have had a whoopie pie or a sandwich cookie before, but you've never REALLY had one until you have maple cookies with maple filling made by dear friends.
Ada saw us snitching cookies and said, "Well? Don't you think you need my opinion? I'm the oldest one here." so we brought one to her, too.
After we finished putting together the cookies, slid three pies into the wood oven, and plopped down at the now-clean table with three mugs of mint tea and a three-high-stack of sandwich cookies in front of each of us (don't look at me like that, Ada did the stack of three cookies in front of me. I had to eat it. It was the polite thing to do. The tasty, tasty polite thing.), I asked what the occasion was; why so many cookies?
"Well, Henry hinted around that he might like a batch of these. They're his favourite."
I asked whether they planned on selling some of them since they were making so many.
"Oh no. We just like to have them around in case of visitors. And Dad really likes them."
I plan on hinting around about these cookies on a regular basis. Henry is no fool.
Nor are my boys. The cookies I brought home to them disappeared in a flash.
A Couple of Notes: Ada and Anna's recipe was vague in instructions, assuming that the reader will have baked cookies before and know what to do. I've embellished the instructions a bit for the sake of those who don't have all that experience on which to draw. Additionally, their recipe calls for mixing everything by hand, obviously- since the Amish in our area don't hold with 'gadgets' in the kitchen- so I've added instructions in case you'd like to make use of modern amenities (like stand or hand mixers.)The frosting -as they made it that day- makes use of shortening and butter flavour. You can skip the combo and just use softened butter, or make it as they do. While I don't usually go for butter flavour, these cookies were outstanding. I'd eat them again and again! The same holds true for the maple flavouring. Normally, I'm a maple syrup only gal. Some of this stems from the time my little sister dabbed a bit of maple flavour inside each nostril because she liked the smell so much. After the first 10 minutes, she had had enough, but she didn't stop smelling it for a week or so. Ah, the miracle of the mucous membranes. The point is that in these cookies, somehow it is just perfect. If you object to maple flavouring, try real extract. But do try them!

Ada and Anna
These soft, brown sugar maple cookie sandwiches are filled with a fluffy maple flavoured frosting that stays nice and soft and doesn't harden like most frosting recipes. Make more than you think you'll need. Company is guaranteed if people know you've made these! Recipe courtesy of Ada and Anna Stutzman
Ingredients
For the Cookies:
½ cup butter, softened
1 cup brown sugar
2 eggs
1 teaspoon maple flavour
1 teaspoon baking soda
½ teaspoon salt
3 tablespoons heavy cream
2¾ cup sifted flour
For "Fluffy Frosting":
2 cups softened butter (or 2 cups shortening and 2 teaspoons butter flavouring, as Ada makes it.)
2 cups marshmallow fluff, store bought or homemade.
2 teaspoons maple flavouring
2 teaspoons vanilla extract
5½ cups powdered sugar
¼ cup whole or evaporated milk (or more as needed)
Instructions
To Make the Cookies:
Ada says to mix the ingredients together in the order given. In other words, use a sturdy spoon or stand mixer or hand mixer to cream together the butter and sugar until well combined and even. Then beat in the eggs and flavourings, soda, salt, cream then flour. Cover the bowl and chill for at least two hours.
Preheat the oven to 425°F.
Roll the dough out on a generously floured surface. Use a 2-3 inch diameter round cookie cutter to cut as many cookies from the dough as possible. Use a floured spatula to transfer the cookies to ungreased cookie sheets (or parchment lined sheets) about 2 inches apart. Re-roll the scraps of dough until you have used all the dough.
Bake the cookies for 8-10 minutes, or until they are just set and slightly springy. Ada advises not to overcook the cookies or they'll be too hard. Immediately after taking the pans from the oven, use a spatula to transfer the cookies to a towel lined counter. Let cool completely while you make the frosting.
To Make the Fluffy Frosting:
Ada uses her hands, so that is certainly an option, but you can also use a spoon, stand mixer or hand mixer to beat together the butter or shortening (and butter flavour), marshmallow fluff and vanilla. When that is smooth, stir in the powdered sugar and the milk. If more milk is necessary to reach a spreadable consistency, add it 1 teaspoon at a time. The finished frosting should be thick, but spread easily on a cooled cookie.
To Assemble the Cookie Sandwiches:
Spread about ¼-inch of frosting on the back of a cooled cookie. Sandwich another cookie on top of the frosting, back to back. Repeat with remaining cookies. Store cookies in an airtight container. If you use butter, you should store them in the refrigerator. These are best when brought to room temperature before serving.